Sony Vaio Laptop Repair- Display Problem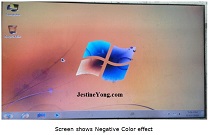 Fault Symptom: Negative Color like Display on Screen of laptop.
Customer walks into my workshop with SONY laptop stating problem with the laptop display is not proper and it is showing miss color combinations on the display screen.

SONY Laptop Model: VAIO E series VPCEG3AEN
So for fault confirmation I turned ON the Laptop and see – what color combination it shows.

Screen shows Negative Color effect. After producing token of receipt the material to the customer I have started my Fault finding. Probable causes are as follows.
1)      Screen shows color changes: may be user have changed some color scheme or theme in display setting. Some other setting may be changed by the user.
2)      LVDS Cable – Logic board to LCD Panel Cable May be loose or Damaged.
3)      LCD Panel itself BAD.
4)      Graphic Chip BAD or require BGA Soldering.
5)      Motherboard is BAD.




/p>
So I have started step by step.
1) Checked Display setting under Operating System no changes were made and it seems setting are OK.
2) For further testing just blinked my mind to check whether Display color is OK in the BIOS setting. (Because if BIOS setting screen shows Colors are OK then probable cause is your Operating system or Display Driver related Issue). So I have rebooted the Laptop and entered into the BIOS setting Mode; I found colors are mismatched here also. So this is confirmed this is something related to hardware only and not a software issue.
3) Now further before opening the laptop (this step is should have been my first Option for fault finding. I may have directly approached and jumped on to point 4. Instead of wasting time in fault finding on point 1 and 2.) I have decided to connect external Monitor and see. hence I have connected external monitor to the laptop VGA output port. Here I got confirmed  that this problem is with Hardware because monitor screen is showing perfect color combination that means motherboard area and Graphic chip area is seems to be ok so probable culprit is either LVDS Cable or LCD Panel itself.
4) So I have opened the Laptop display panel for visual inspection whether LVDS Cable is proper or not. Checked cable found OK there were no physical damage burning marks or loose connection.
5) Now what? Now the only thing is left that is LCD Panel.
Hence I have ordered the new Display Panel with our supplier and we got the delivery within 2 hour.
After arrival of Panel we have seen old and new panel are having different marking on them so we called up back to our supplier for this wrong delivery. What he has replied – just Match the LVDS FFC (FLEXIBLE FLAT CABLE) Connector back side on the panel if it is identical same in both the Panel then you can connect and see, if it is not working then send it back to us and we will provide you another one.

After conversation with our supplier, we have checked on both the Panel backside LVDS FFC (FLEXIBLE FLAT CABLE) Connectors and found both of them were identical.

So we have just connected the new panel and turned ON the laptop and found Laptop screen is worked fine.

So now it is confirmed the main culprit is LCD Panel it self. So we have removed old panel from the Hinge Frame.

And replaced Bad Panel with the new panel

And Laptop is ready with Final Fittings.

Note: For any type of Display problem in laptop, connect an external Monitor on VGA Output port on Laptop and test.

 This is fastest way to catch culprit between Laptop Panel and Motherboard.

This article was prepared for you by Yogesh Panchal who works as a Computer Hardware Engineer in Mumbai India.
Please give a support by clicking on the social buttons below. Your feedback on the post is welcome. Please leave it in the comments.
P.S- Do you know of any your friends who would benefit from this content that you are reading now? If so, forward this website to your friends or you can invite your friends to subscribe to my newsletter for free in this Link.
Note: You can check his previous repair articles on LCD Monitor in the link below:
https://jestineyong.com/lg-lcd-monitor-repair/
Likes
(

144

)
Dislikes
(

1

)