SOS, PC too dirty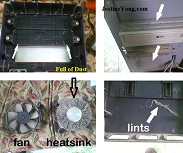 A customer of mine called me because his FOXCONN PC was having a malfunction. When I got to his home I straight away opened the PC. It was too easy; only two screws were holding the lateral cover of the chassis. Now look what I saw.


As you can see in the photos above this PC was really asking for SOS. A preventive maintenance was done to all the parts and the lubrication was taken into consideration too. Preventive software such as: Scandisk, Disk Defrag and One Click Maintenance (from TuneUp Utilities) were run to improve the performance of this PC.
Conclusions: Most of the customers do not realize the importance of a preventive maintenance. It should be done every 6 months if you want your PC to work without much problem. Sometimes when the customers called, it's already too late because at that time their PCs are out of order and no longer functioning.

This article was prepared for you by Humberto Rodriguez, one of our 'Master Authors' from Cuba.
Please give a support by clicking  on the social buttons below. Your feedback on the post is welcome. Please leave it in the comments.
P.S- Do you know of any your friends who would benefit from this content that you are reading now? If so, forward this website to your friends or you can invite your friends to subscribe to my newsletter for free in this Link.
Likes
(

127

)
Dislikes
(

2

)