Sparking (Arcing) Problem In LCD TV Repaired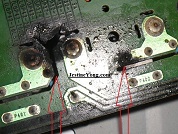 This 32 inch LG LCD TV came in for repair with the complaint of no display but have sound. When a LCD TV have display problem it usually related to either the Inverter circuit or the CCFL backlight.
Sometimes it can also be due to bad power supply output DC voltages especially when there is a bulged filter cap at the secondary side.

Once the cover was removed, I could see the power supply/inverter, mainboard and T-con board. But the T-con board was was covered-see the photo below:

When I flipped over the power supply/inverter board I saw burnt marks (due to sparking) at the pin of the high voltage inverter transformer –  see the two photos below:


What I did was to clean the burnt area and applied silicone glue to the inverter transformer pins. I did not expect it to run again. I just tested it to see if there is any sparking when the TV was On. To my surprise, the TV worked well and there was no longer any sparking at that inverter transformer area.
The screen came back normal without any distortion in the picture. I considered the repair was done since there was no further problem after running the set for long hour.


Conclusion- If after applying the silicone glue and there is still sparking (arcing) this means something is not right either with the inverter transformer itself or the incoming signal/voltage to the primary winding of the inverter transformer. This means, I may have to direct replace the inverter transformer and to retest it again. By the way Kent had just launched his new ebook on LED/LCD Panel and T-con board repair and you can click here to check it out.


This article was prepared for you by Suranga Bandara who owns an Electronics repair shop in Anuradapura, Sri Lanka.
Please give a support by clicking on the social buttons below. Your feedback on the post is welcome. Please leave it in the comments. If you have electronic repair articles to share with us, please contact us HERE.
P.S-  If you enjoyed reading the above article, click here to subscribe to my blog (free subscription). That way, you'll never miss a post. You can also forward this website link to your friends and colleagues-thanks!
Note: You may check out his previous post in the below links:
https://jestineyong.com/lg-led-tv-repaired-with-no-picture-symptom/
Likes
(

68

)
Dislikes
(

0

)