A computer speaker system repaired. Model: creative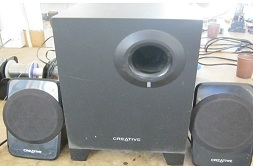 A customer brought this computer speaker system for repair. It has a base amplifier and two small speakers. The main complain was, he could hear only one speaker working. The faulty output was the right side.

The creative computer speaker systems are well known for their good quality but this one was a little bit cheap and the customer did not want to spend too much money on repair.
Since the complained was no sound in the right channel I did a test to see if there are faultyspeakers. I swapped the non working speaker to the left channel and sure enough there was sound. I know now that both speakers are in good working conditions. It is time to get thissystem open and repaired.
There were four screws holding the plastic part that has the two speakers outputs plugs, the sound source input and the main power cable and a power switch. Take a look.

It is a stereo plug that should produce stereo sound on both speakers and also the basespeaker in the bottom on the wooden unit. I was suspecting the amplifier IC's inside first but I did something that proved otherwise. I pulled the input source plug out and I could hear bothspeakers at the same time. When I pushed the plug all the way in the input source, I get sound only in one speaker.
My focus was shifting to the plug of the main audio source. I opened the unit and checked inside for loose joints.

I found some loose soldering joints on all pins of the input source plug. I de soldered the bad joints and added fresh solder to these pins but that did not solve the problem.
I powered up the sound system and tried the system again. This time, I wiggled with the input stereo cable and I could hear the sound shifting from one speaker to the other. At this point I realized that this plug is faulty and need replacement.

I cut it off and added a new much better stereo plug and the result was amazing.

Conclusion:  The sound was perfect; repair cost was low, a satisfied customer and to that, I say mission accomplished.

This article was prepared for you by Waleed Rishmawi, one of our 'Master Authors' and currently working in the Bethlehem area of Palestine repairing electrical and electronic equipment.
Please give a support by clicking  on the social buttons below. Your feedback on the post is welcome. Please leave it in the comments.
P.S- Do you know of any your friends who would benefit from this content that you are reading now? If so, forward this website to your friends or you can invite your friends to subscribe to my newsletter for free in this Link.
Likes

(23)
Dislikes

(0)
Likes
(

2

)
Dislikes
(

0

)