Stand By Red Light In LCD TV Repaired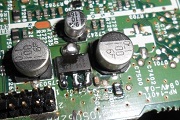 This Sanyo LCD TV 24″ came in for repair with the complaint of red light problem. Red light means stand by power fault. It also mean no display until you have sort the problem out. Stand by problem usually can be caused by bad power supply or the main board. If the power supply is supplying good 5 volt DC then the fault is in the main board.
If the power supply have only few volts ( 2 to 3 volt) this could mean the power DC rail filter capacitor could have fault. So in this case, I got 5 volt DC output from the power supply and I measured it at the output connector pin 4 and 5 (see the photo below):

The DC 5 volt is going to the two boards (tuner and main board):

Tuner and Main board
The easiest point to check in the mainboard is the SMD voltage regulator IC. Look at the part number and see what will be the output voltage.
In my case, it was the 3.3 volt voltage regulator IC. It has the input 5 volt but does not have 3.3 volt. The voltage that I got was lowered than 3.3 volt!

Since the output voltage was lowered than 3.3 volt this mean this particular IC could have problem. You also need to know that sometimes the lowered voltage could be caused by a leaky component along the 3.3 volt line.

To confirm it, I simply replaced the IC and do a check on the output voltage. It was 3.3 volt! So this means there is nothing leaky in the 3.3 volt rail.

I lifted the LCD panel and saw the display. I put back everything and powered it on. The next photo was what I saw and happy with the result.


Conclusion- If after fixing the new 3.3 volt voltage regulator IC and the output voltage is still low then I need to check on the components that is connected to the 3.3 volt power rail. It could be a shorted cap, leaky IC and etc. If you want to know more about LCD TV Mainboard power faults you can check out on Damon's ebook HERE.

This article was prepared for you by Suranga Bandara who owns an Electronics repair shop in Anuradapura, Sri Lanka.
Please give a support by clicking on the social buttons below. Your feedback on the post is welcome. Please leave it in the comments. If you have electronic repair articles to share with us, please contact us HERE.
P.S- If you enjoyed reading the above article, click here to subscribe to my blog (free subscription). That way, you'll never miss a post. You can also forward this website link to your friends and colleagues-thanks!
Note: You may check out his previous post in the below links:
https://jestineyong.com/how-to-repair-no-power-and-no-sound-in-active-speaker/
Likes
(

95

)
Dislikes
(

2

)