Standby In LCD TV Repaired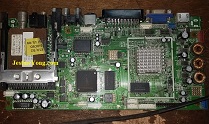 This LCD TV was brought to me with the complaint of no display. When I plug it to wall socket, standby light lighted, but TV will not switch On.

I opened the back cover, did normal cleaning and did visual inspection.
On inspection, I did observe two bulged e-caps at audio circuit of TV, see the below pictures:


All I have to do is to just replace the caps and hope for the best.
So I changed the two caps with their exact value, pictures below:


Then I connected the a/c cord and power the TV, wow!! TV came with good picture, however I am sorry I couldn't able to post picture of the repaired TV showing picture, I couldn't find it in my Google photos, I must have accidentally deleted it, for this repair was done February this year.
The customer brought another work to me this month and this made me to remember the TV repair. Customer was happy with the repaired work.

This article was prepared for you by Imoudu Onwumah from Nigeria. He is 62 years old and has just 3 years experience in electronics repairs. I started career in hotel industry as a chef, but then I was doing repairs only in electrical repairs as a hobbyist. In 2018, I decided to learn about electronics which through Jestine's electronics e-books and holding my hand, am an electronics techie today.
Please give a support by clicking on the social buttons below. Your feedback on the post is welcome. Please leave it in the comments.
P.S- If you enjoyed reading this, click here to subscribe to my blog (free subscription). That way, you'll never miss a post. You can also forward this website link to your friends and colleagues-thanks!
Note: You can read his previous article on The Unfinished Repaired Work
Likes
(

60

)
Dislikes
(

1

)