Standby LED Blinking Problem in TCL TV Solved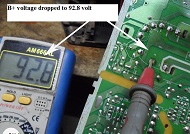 Customer complaint that this TCL CRT TV standby power LED always blinks and without picture. For your information standby power LED blinks can be caused by few reasons such as unstable dc output voltage from the power supply, component's leaked or shorted at secondary side, memory IC firmware corrupted, main power supply primary side itself have problem and etc.
The first thing I did after opening the TV cover was to check for any dry joints in the circuit board. All solder joints seems to be intact and there were no bulged e-caps either. Below photo showing the solder joints of the TV circuit board:

Next test I checked on the B+ input DC supply voltage of the flyback transformer pin. A good working TV should have about 110VDC (depending on the size of the TV) but this point measured 92.8 only. The horizontal output transistor and surrounding components checked to be good thus I suspect the flyback transformer could be the culprit.

In order to confirm that indeed the flyback is the caused of the problem I soldered a 100 Watt light bulb between the B+ input and cold ground-look at the photo below:

When I powered it On, I got about 105.1 VDC indicated the power supply was good and the problem was in the flyback that drawn too much current causing the B+ voltage to drop.

I got a new flyback and the part number was BSC-25-0230Z and soldered it to the board.

I powered the TV On and the voltage that I got was 105.2 volt and this had proven the flyback transformer indeed was the culprit.

I cleaned the circuit board with BCP chemical after I had installed the flyback transformer.
The circuit board looked new!

Once all the parts were fixed I powered On the TV and the display appeared indicated the job was done.

Conclusion- In the above repair case it was only the flyback transformer at fault. If it is not the flyback then I need to check on other area possible firmware problem if the memory ICs are receiving good DC voltage from the power supply. All the best to you and hope to see you again.

This article was prepared for you by Suranga Bandara who owns an Electronics repair shop in Anuradapura, Sri Lanka.
Please give a support by clicking on the social buttons below. Your feedback on the post is welcome. Please leave it in the comments. If you have electronic repair articles to share with us, please contact us HERE.
P.S- If you enjoyed reading the above article, click here to subscribe to my blog (free subscription). That way, you'll never miss a post. You can also forward this website link to your friends and colleagues-thanks!
Note: You may check out his previous post in the below links:
https://jestineyong.com/linear-transformer-primary-winding-open/
Likes
(

62

)
Dislikes
(

1

)