Standby LED Blinks In Haier LED TV Repaired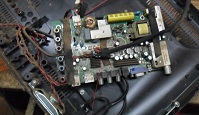 The complaint of this Haier 24″ LED TV was standby LED light blinking. For your information standby LED light blinking problem can be caused by bad power supply output voltage, bad voltage regulator IC in the mainboard or firmware corrupted. If the output voltage from the power supply is unstable thus the DC supply voltage to the MCU IC and other memory ICs also become unstable eventhough there is a voltage regulator IC being used. Being said that if the fluctuation DC supply voltage is too high entering the input pin of voltage regulator IC the output would be affected as well and this will cause the MCU IC to send out a continuous signal to the power LED causing it to blink indicating error.
If the voltage regulator IC itself have problem, the output voltage can become lower than the specific/rated voltage thus the MCU IC may not even function properly causing power blink. One good example is the 1.2 volt voltage regulator IC that output 0.8 or lower voltage in one of the LED TV mainboard models causing the power LED not to light up or blinks. In the photo below, the power supply is integrated with the mainboard:

With just visual inspection there were six bulged capacitors found in the board. See the three photos below:



Once the 6 bad capacitors have been replaced the display came back and no longer have power LED blinking problem.

Conclusion- It was a simple repair. However, if no bad capacitors found then I have to use the voltage checking method to check on the voltage regulator IC output to make sure it has a correct DC output. If the DC output voltage is good then I may have to reprogram the EEPROM IC first before the MCU IC.
You can check out my previous repair article here on LCD Monitor that had no power and it was the firmware fault and got nothing to do with the power supply. I hope you got the points of what I'm trying to explain in this article. By the way you can checkout Damon's latest 713 and 348 PDF list about problems and solutions in LED TV Repair.

This article was prepared for you by Suranga Bandara who owns an Electronics repair shop in Anuradapura, Sri Lanka.
Please give a support by clicking on the social buttons below. Your feedback on the post is welcome. Please leave it in the comments. If you have electronic repair articles to share with us, please contact us HERE.
P.S- If you enjoyed reading the above article, click here to subscribe to my blog (free subscription). That way, you'll never miss a post. You can also forward this website link to your friends and colleagues-thanks!
Note: You may check out his previous post in the below links:
https://jestineyong.com/standby-problem-in-singer-dvd-player-repaired/
Likes
(

79

)
Dislikes
(

0

)