Standby Problem In CRT TV Repaired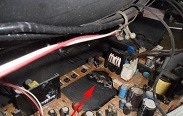 My customer complaint to me that his Sharp CRT TV does not have display and I found that the standby light was red color. I have even tried to press on the remote control On button with same symptom. I concluded that this TV have standby issue causing no high voltage symptom and the result was no display.
The moment I opened the TV cover I was shocked to see there was a burnt gekco on the mainboard-see the photo below:

After removal of the mainboard, there were actually two dead burnt gekco.

Taken out the two dead gekcos and after cleaning the circuit board, I saw the horizontal driver transistor was actually shorted by the gekco's body fluid.
Once this transistor is shorted, the horizontal driver transformer would not be energized.


I replaced with another good working transistor and then powered it On and the picture came back to life again-see the photo below:

I was curious how these two gekcos could enter into the TV and found that actually there was a small hole at the side of the TV in which I missed out when opening the cover. I sealed the cover and considered the job done.

Conclusion- Just imagine if there were no gekco in the TV and the TV symptom was no high voltage (no display) so where do you check the mainboard? The area that you need to check is the horizontal oscillator circuit area.
If there is no pulse from the horizontal oscillator IC, horizontal driver transistor and horizontal driver transformer open circuit or dry joints in this circuit, it can cause no high voltage symptom. If there is no B+ voltage to the flyback or the flyback itself have problem, it can also cause no high voltage symptom. So take note on this.

This article was prepared for you by Suranga Bandara who owns an Electronics repair shop in Anuradapura, Sri Lanka.
Please give a support by clicking on the social buttons below. Your feedback on the post is welcome. Please leave it in the comments. If you have electronic repair articles to share with us, please contact us HERE.
P.S- If you enjoyed reading the above article, click here to subscribe to my blog (free subscription). That way, you'll never miss a post. You can also forward this website link to your friends and colleagues-thanks!
Note: You may check out his previous post about Mixer Grinder Repair
Likes
(

69

)
Dislikes
(

0

)