Standby Problem In Pioneer Mini Hi-Fi System Repaired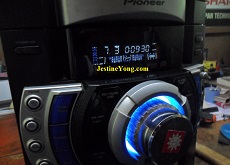 A customer sent to me the Pioneer Mini Hi-Fi System for repair wit the complaint of Stand By Mode.  This means by pressing on the standby/On button in the front panel would not cause the system to start up. This system came together with a remote control and by pressing on the remote control power button, the system still refused to work-see the two photos below:


The first I had done was to check on the main circuit board to see if there is any loose cable connection, burnt parts and etc.
All seems to be in good condition.

Next, I pulled out the ribbon cable that is connected between the mainboard and the front panel control-see the photo below:

The ribbon cable signals are actually going to the front panel on/off switches (Rec/Tune/Preset/Stop and etc).

When the ribbon cable was pulled from the front panel board and powered On, the system no longer in standby mode. If you look at the photo below, you can see the USB word displayed.
This suggested that the front panel board have something shorted that had prevented the mainboard  from starting up.

From experience, usually the cause of the short circuit would be the small on/off switches. The reason for it is because if these switches is always on (without pressing on the switch), the microprocessor IC in the mainboard could recognized there is a problem thus disabling the start up until the short is removed.

I did not check the switch because sometimes it can have intermittent problem. I direct replaced all the switches and power it On. Guess what? the system immediately functioned again-see the photos below:


Conclusion- When you want to troubleshoot any mainboard, always make sure that the control panel board (control buttons) be disable first and see the result. If the mainboard starts to work again, suspect front control board problem. If it still refuse to start then check on the mainboard. Hope this  article helps!

This article was prepared for you by Suranga Bandara who owns an Electronics repair shop in Anuradapura, Sri Lanka.
Please give a support by clicking on the social buttons below. Your feedback on the post is welcome. Please leave it in the comments. If you have electronic repair articles to share with us, please contact us HERE.
P.S-  If you enjoyed reading the above article, click here to subscribe to my blog (free subscription). That way, you'll never miss a post. You can also forward this website link to your friends and colleagues-thanks!
Note: You may check out his previous post in the below links:
https://jestineyong.com/led-tv-that-im-not-able-to-repair/
Likes
(

102

)
Dislikes
(

1

)