StarTech USBdup 12 SD Card & USB Memory Tester Copier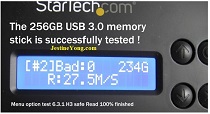 In these digital technology times we use portable memory for all kind of devices all day long. Like microUSB SD cards we need to boot up a Raspberry Pi, or our USB memory sticks with lots of family photos or movies on them, or ebooks and other data we do not want to lose either.
And I already lost data on older USB memory sticks that suddenly refused to be recognized and no longer could be saved. And it also happens that we buy a few SD cards or memory sticks that somehow do not work on all USB ports or computers we try them out on. Even newest USB 3.1 sticks!
So I needed a safe way to make sure I could make easy backups and even test the quality of the SD cards and all kind of USB memory sticks. And I found this in a device that in just a few seconds is able to check the integrity of those memory cards and sticks: The STARTECH USBdup12 copier/tester which I bought on Amazon.de. And it was already delivered the next day free of shipping!

But before I was able to do just that I discovered that the StarTech USBdup12 doesn't work with just any SD card to USB adapter. And this article explains what happened when I experimented with this great product that simply has no equal product in its class for its price and its capabilities that is a good match. And as far that I know doesn't even has any existing USB 3.0 device to compare it to!
The best functions it is capable to carry out -besides of course copying from one source to 1 or 2 destination memory card or sticks at 1.5GB/minute- are the CAPACITY test function, and the USB info test funtion.
The capacity test very fast recognizes a good memory card or stick and if it has the correct capacity and as long it is not a weak bad memory card that may cause problems now or in the near future it shows that capacity. Else if the SD card or memory stick is weak and unsafe or something is wrong with the capacity size it in the first case won't recognize the card or stick at all, or in the second case shows the text "BAD!" on its backlit LCD display. So we this way easily are able to know if our memory is safe and secure. And we can plug in and out cards in port 2 or 3 one after the other to keep testing new cards or sticks easily. And using the four front buttons is easy. Left 2 are up and down. And the right 2 are below exit and top button is select/start. The USB info test function is another handy feature that shows what the used format is and how much of the memory is occupied by written data. But let me start with telling here what cardreaders and SD to USB adapter converters failed to be trustworthy adapters! They failed in both or on one of above mentioned tests by showing wrong capacities or the wrong USB info. Next photo shows the only good USB cardreader adapter from Rocketek! I also had another Rocketek adapter converter but that one was completely useless! And I need 3 good working adapters for this tester so I ordered 2 extra 3.0 cardreaders.

Above perfect cardreader just costs about 15 euro on Dennisdeal. Below the on the StarTech USB dup12 copier useless reader also from Rocketek! Also a Tinpec cardreader failed on the StarTech!

On above useless Rocketek cardreader none of the inserted cards were seen bij our StarTech tester copier! This bad cardreader like many other bad card memory adapters only works good on a PC!
Next photo shows the good Rocketek USB 3.0 cardreader in the 256GB SD card capacity test (With the protection foil still over the LCD). An SD card bought on Aliexpress recently for only about 13 euro! ALUNX card shown on below photos. The Tinpec cardreader below failed too on the StarTech.


Next photos show the other USB card adapter converters that failed on the StarTech in tests.

Below SDHC Card Reader (150x) gave the completely wrong SD card memory size of 26.9GB which in fact was 250GB from the above class10 256GB marked card!

The memory size is still completely wrong although that the exFat format info may be right!

On above photo on the right the bad Rocketek adapter is useless keeping the StarTech waiting and nothing happens as none of the inserted memory cards are seen! (WAITING without end!).
Below Apacer failed too in correctly giving the right info when used in the StarTech USBdup12 copier! It only gives the correct capacity but fails on the USB info test!

Next follows a photo that shows a correct given USB info message when the perfect working Rocketek card reader adapter was used. This time after the card was formatted in seconds also using the StarTech USB duplicator tester. And this StarTech tester not only copies cards and sticks but also hdd's because it also has a special hdd setting option in its menu!

If above USB info menu shows the text Unknown Format it means that the card is not formatted yet! But it still also shows the right capacity of the card. Above 14MB is just an empty FAT32 SD card.
Next follow all the main menu options that are easy to follow once we have used it a couple of times.
They also show menu option 5 that opens the USB info test function in 1 and System info test in 2.
And do not forget that this tester works stand alone without the need of any connected PC! So it also works very economic on the included 5V 2A adapter which also makes it very cheap on energy costs too! The StarTech is able to work for many hours without any problem and is also very portable.



Last photo above on the right shows the LCD message of a not yet formatted 16GB SD card.

Previous photo in the middle showed what happens when we use a cheap StarTech incompatible cardreader to test a good 128GB SD card. The entire free capacity is correctly given but it shows BAD! Which is wrong! Used was the above mentioned microSD cardreader.
On above photo also the red error led is activated on the USB port [#2] with the memory card under test. If the test was successful the green led will activate.
Finally here follow several photos that show the USB Info test results of a new perfect working USB 3.0 256GB memory stick.

The partition is read and if there are more partitions they will also show.


Here the easy to follow Instruction How to Use Menu structure of the StarTech USBdup12:

The best test option though – the 3th not yet mentioned test in the StarTech menu, is option 6.3.1 Media Check H3 Safe 100% (wrong in manual booklet written as sake 100%! Here corrected!).
With this safe test we can test the integrity of the memory under test. To rule out that we deal with a fake memory stick! Any fake stick is hard to detect on a standard computer because if we for instance have a fake 2TB stick the computer shows having 1953GB of free memory available. But it is just a fake memory size because it is a limited stick that will be continuously overwritten with new data when it is full. In overwriting the previous data that already was written to it. In next example I will show such a completely fake 2TB USB memory stick under test on the StarTech USBdup12.

In above LCD message it shows the fake memory size inserted in USB port 2 and the momentary read speed plus the already tested good memory size being here just 790MB. The read speed was already decreasing.
In next message, that follows quickly, the StarTech detected my 2TB fake memory stick! And the total of real available memory size that was tested good, was here just 790MB.
And because the reported memory size differs from the real tested size the stick is BAD!

The H3 test option 6.3.1 is safe because memory is only read and not written to.
If we however want to make sure that reading and writing works we have another option in menu item 6.3.2. The H5 R/W 100% test. This function no longer is safe because it deletes the content and the format of the Flash drive!
I repeated the safe 6.3.1 H3 100% test with my 256GB USB memory stick and the results are shown below in sequence of advancement. (The color change was just caused by my Canon camera).



After a while (at a read fairly constant speed of 27,5MB/Sec) previous photo was the result and my 256GB USB3.0 memory stick was completely approved. The 234GB memory is real and no fake! And the green led (which only blinks under test) is steady green showing the test was completed successfully! This WSD TC101 256GB USB 3.0 stick is a special stick that also has a special USB3.0 type-C connector. Nice thing of this connector is that it always works no matter how you plug it in because this improved version connector is completely symmetrical!
Conclusion: I have used this USB duplicator tester a couple of days now and really love how easy it is to use. And I really think that it will save me lots of time and money if I have memory sticks, SD cards or even questionable hard disks I need to test or copy. And making 2 synchronous copies at the same time is also possible! This device is also capable in asynchronous copying sticks and cards by just inserting one after the other until the task is completed. And choosing whole (entire) memory copying or only just the data on it is no problem either (Edit selecting menu option 7 setup=> item 2 Copy area, and then back to main menu choosing item 1 Copy) , of which last method of course goes faster. But it also copies hidden data at a speed of max 1.5GB per minute. Still copying a 1TB hdd will take about 11.11 hours time. However it can be done with this USB copier/tester too!
It starts and ends automatically and there is no need to check its process if everything works as to be expected. I haven't tested any hdd yet but I guess that any small 2.5 inch hdd or ssd can be used with the right USB adapter/converter. We can go to sleep and watch the result the next morning not having to worry about overheating any external active computer processor or anything of that kind.
I haven't mentioned it before but inside the StarTech copier there also is a small beeper that mostly beeps when it is ready.
This StarTech tester copier already disapproved of using a brand new 16GB SD card (bought in a set of 6 of those on Aliexpress) simply by not recognizing it. Although I still was able to use that card on my quad core computer it indeed had trouble to read and use it. The 5 other cards were fine! So some sellers probably just hope to get away with this? And if we complain they say that they give a discount on any next placed order at their shop. Which of course will be out of the question in such cases!
Although this article was not about any repair in the usual way, it is about preventing problems that are hard to fix afterwards! Why I think it is important enough to share because it did take me some time to figure out why my tester at first several times failed. Which was caused by a bad SD card and the not compatible card readers. Same is true when the here found bad cardreader adapters are used on any USB PC port. Only the good tested Rocketek USB 3.0 never gave any problem whatsoever on any computer. Which would have been hard to detect without having this StarTech USBdup12 copier/tester. Probably the only thing that may be wrong with this Rocketek USB 3.0 cardreader is that it has an internally placed blue led that hardly can be seen through its black case when it activates.
Anyway know that the here presented awesome StarTech USBdup12 tester/copier keeps its cool and is there if we need it to save or duplicate our important data! It comes with a lifetime support by the manufacturer and a 2 year warranty on the copier/tester. And hopefully keeps working long after that time has past.

Albert van Bemmelen, Weert, The Netherlands.
Please give a support by clicking on the social buttons below. Your feedback on the post is welcome. Please leave it in the comments.
P.S- If you enjoyed reading this, click here to subscribe to my blog (free subscription). That way, you'll never miss a post. You can also forward this website link to your friends and colleagues-thanks!
Note: You can read his previous repair article in the below link: https://jestineyong.com/strange-power-supply-tester-result/
Likes
(

28

)
Dislikes
(

0

)