Strange Fault In An Overheating Computer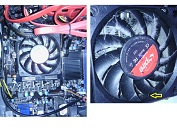 We all like to repair other people's electronic appliances. It can be enjoyable, frustrating and satisfactory. However, when it comes to our own items, they can be left in the 'to do' pile for quite some time (or is this just me?).
My personal computer is a Pryon brand, with an 8-core Vishera processor, 16 gig of RAM and originally with a 2 terabyte hard drive. I have managed to squeeze 9 terabyte hard drives into this hard working computer, either internally or externally. So as you can see, it gets a bit of a work out.
The issue I had was that I would be working for quite some time and then it would randomly shut down and being a part time technical writer, would find this frustrating as I would often loose unsaved work. I thought it might be an overheating/protection system, so I decided to investigate within the BIOS. As you can see in the photo below, it was getting quite warm (75°C in the photo)! This was not the highest temperature that it was reading and I realised that I should do something about it fairly soon. 

Or in the near future……
I was pretty busy and didn't have time to sort out the issue right away, so I did the next best thing – ignore the issue. When this didn't work, I took immediate action, as you can see in the photo below.

As you can expect this was not a permanent fix and the shutting down continued, even if at a slower rate. I guess I would have to do something about it! I pulled the side of the tower and discovered what the cause of the problem was. Dust! It was everywhere!

Upon further inspection, I realized that the foreign matter was not just dust, but hair – but from where? I didn't have to look far for the culprit. It was from my dog! He is a fur carrying machine, waiting to damage sensitive, electronic components!
Generally he does not come into my office, but his fur seems to float through the air and find all delicate electrical items. So now that I had found the fault and the reason, I took action. After removing the fan and the CPU heat sink, I could see the lack of cooling my poor computer was experiencing.  It was only a matter of cleaning all the components with a brush and vacuum cleaner to remove all the dust and hair. After applying new thermal paste, I reassembled all the components. 

After checking the BIOS again, I was pleased with the results (35°). That's a drop of 40°!

I have since installed 2 programs that make it easier to both access the computer information quickly and also keep an eye on the CPU temperature.
CPUID CPU-Z
CORE TEMP
So as they say, preventive maintenance is key to a successfully operating unit. I now regularly check the core temperature so that I am prepared for the next big clean out!
P.S. No animals were harmed in the making of this article…..

This article was prepared for you by Mark Rabone from Australia.
Please give a support by clicking  on the social buttons below. Your feedback on the post is welcome. Please leave it in the comments.
P.S- Do you know of any your friends who would benefit from this content that you are reading now? If so, forward this website to your friends or you can invite your friends to subscribe to my newsletter for free in this Link.
Note: You can check his previous article in the below link:
https://www.jestineyong.com/plasma-tv-recycled-for-education/
Likes
(

141

)
Dislikes
(

0

)