Sudden Power Surge Blew SMPS In Two HAIER LED TVS MODEL LE22B600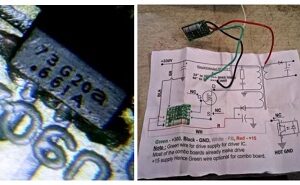 These two LED TVs belonged to the hospital where I work. They were brought with the complaints that both were dead after a sudden power surge due to lightning.

Case 1 :
This was very simple. One of the two SR360 diodes was short. I replaced both. I detected this using the Ring Tester, which showed a short somewhere. From my experience, I know these diodes fail and that is how I was able to quickly detect the problem. After checking all other components and also looking for any track cuts, when I powered, the outputs were found ok. Then I connected the mother board and powered it on.
It worked very well. I closed the case after testing it for a reasonable time. I am giving only the photo of the result. Defective components are shown along with the second case at the last. Both TVs had identical boards inside.

Case 2:
When I checked the SMPS, I found that the fuse was intact, which from my experience, need not be a good sign at all! There were no shorts of diodes nor did the Ring Tester show any unhealthy condition. So, I powered it up and checked for output after disconnecting the mother board. There was no output. The startup voltage was present on the 6 pin SMD IC. But the oscillation was not taking place. I tried after checking all components both in primary and secondary thoroughly and also by replacing the opto-coupler, the TL431 IC etc. as these can cause problems. But there was no output still. As I was not happy with the ESR readings of the caps in Power Supply, replaced these also. But still there was no oscillation taking place, which was a clear indication of failure of the PWM.
So, I removed the six pin SMD IC and connected a four wire module in its place; Green wire to B+, Black to Hot Ground, Red to Run DC and white to opto-coupler. I connected a Brown Wire to the Drain marked on the Module and soldered it to B+ return from the SMPS primary to enable switching. (As we all know, the switching takes place as this pin of the SMPS is pulled to ground through the Mosfet, gate controlled by the PWM IC at very fast rates). After switching it on and finding the 12V output, I fixed the module on the heat zinc of the Mosfet (The Mosfet was intact and did not suffer any damage!). I had fixed the Mosfet on the module to enable this fitting. Following pictures might be of more help:


The next problem started after I connected the power supply board to the mother board! The set got on but went to standby mode without any apparent reasons. Sometimes the TV will work for a few minutes or hours or immediately it would go to standby when switched on. Naturally, my suspicion was on all the electrolytic caps. True enough, my new ESR meter showed unhealthy readings of the caps. I went ahead and replaced the caps on the mother board as well. But problem was not solved. I consulted my techie friends, who asked me to check the 3.3V and 1.8V, which were steady and perfect on check up. What could be wrong? I was scratching my head for quite a long time. But when I was increasing the volume, may be a reflex action from experience, I noticed the set going to standby immediately.
Then I removed the speaker connections and allowed it to run. There was no problem for hours together. In all these checking processes, a couple of days went by, though. I checked the speakers connecting it to my Amplifier and noticed that one speaker was getting shorted occasionally, as the coil was getting jammed. As the amplifier had speaker protection, it did not get affected. So, I connected some other speakers to the TV and allowed it to run for hours, increasing the volume to the maximum. There was no problem. So, I ordered for a new pair of same type of Speakers and got it later. Fixed the new speakers and allowed the TV to run for hours together again. It worked very well bringing a sigh of relief to me. Mission accomplished and intensified satisfaction got collected!

P.S. Those of you who want to see a zoomed picture, may please select the desired picture and then keep ctrl (control) key pressed and use scroll of the mouse to increase or decrease.

This article was prepared for you by Parasuraman Subramanian from India. He is 72 years old and has more than 30 years' experience in handling antique equipment like Valve Radio, Amps, Reel Tape Recorders and currently studying latest tech-classes conducted by Kerala State Electronics Technicians' Association. He has done graduation in BBA degree, private diploma in Radio Engineering and retired as MD of a USA company. Presently working as Consultant to Hospital and other institutions.
Please give a support by clicking on the social buttons below. Your feedback on the post is welcome. Please leave it in the comments.
P.S-If you enjoyed reading this, click here to subscribe to my blog (free subscription). That way, you'll never miss a post. You can also forward this website link to your friends and colleagues-thanks!
You may check on his previous article on Fuse Blown And Power On LED Found Short In NORGE 2060 Amplifier
Likes
(

56

)
Dislikes
(

0

)