T-CON Board IC Complaint And Backlight Issue Resolved In SONY BRAVIA KLV-32S400A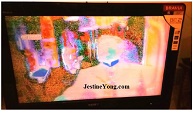 This LCD backlight TV was brought to me with the complaint that it had bizarre images when switched on, after leaving it in the attic for almost an year. Though I received the TV a few months back, I did not have the time to look into the problem due to various domestic problems. Finally, when I took it and switched on to see what was the trouble, error codes were blinking, indicating a backlight failure. I opened the TV and subjected it to a thorough cleaning of inside.

When I checked the inverter, I noticed that the voltages for its proper function was ok. The circuit was using OZ964 IC. So, I checked the output transformers using Multimeter selecting ohms range; of-course after switching off and discharging the caps there. I could not find anything wrong in the secondary as all of them were reading almost same. Unfortunately I do not remember the value, but guess it might have been around 1.5K.
Looked for any defective components or value changed resistors and could not find any. On consultation with my techie friends, they were of opinion that because of ageing, the LCDs might be drawing a little more current, as a result of which the driver IC senses it and goes to protection mode. They suggested bypassing the protecting by connecting an LED from pin 4 to ground, which I did. Now When I switched on, the backlight was on and this is what I saw. I am also giving pictures of the Inverter IC and the bypass done.



Focus turned to the T-con board to trace the reasons for the improper images. When I shared the snaps with my ever-ready-to -support techie friends, they told me that the problem could only be due to the following IC (AS-15), which is very common. I am also providing a picture of the T-Con board:

The datasheet of this IC can be downloaded from: https://www.datasheetbank.com/datasheet-download/140794/1/ETC/AS15-HG
I used my blower and removed the IC. You can take a look:

As you can see, I applied solder all-around for easy removal of the IC. Then replaced the same with a bought out IC. My techie friends had warned me that the ICs available in the market might not function and I may have to remove and replace a few times, using different batches of the IC available from different sources. I ordered the IC to a few places.
Got about five of them. Tried replacing these one by one four times, but got different results, which varied but without solving the image problems. This was not done at a stretch, but on various days later. I really got fed up and kept aside the TV for some more weeks, as I had urgent domestic problems to take care of.
By this time I had established contacts with one of my friends who had opened a Panel repair, Bonding and replacement shop about 20Kms away from my home. I took the TV to him hoping to resolve this problem. I had already removed the last put IC. He checked the T-Con Board and asked me to give another new IC from a different batch. I gave the one picture of which is given below:

Firstly he cleaned up the area thoroughly and applied fresh solder in all places. Then used a hot plate (See picture above) which he kept underneath the board and allowed the applied solder to melt very well. Then kept the IC in proper position and switched off the heater. Took the T-Con board after it cooled off. Then retouched all the points once again and cleaned the board thoroughly. The entire work was so professional that the soldering looked like a factory finish. Amazing talents! The T-con Board was then reconnected, but with more or less the same results.
The first doubt that the IC soldering using the hot iron would not have been proper was cleared now. The problem was with the IC. So, he hunted for one from his stock, which looked like original and went through the process of removing and re-soldering the new one. Reconnected the board and switched on and both of us were relieved to see a good picture! Gave me a sigh of relief!

So, intense satisfaction found its way into the collection bag!

This article was prepared for you by Parasuraman Subramanian from India. He is 72 years old and has more than 30 years' experience in handling antique equipment like Valve Radio, Amps, Reel Tape Recorders and currently studying latest tech-classes conducted by Kerala State Electronics Technicians' Association. He has done graduation in BBA degree, private diploma in Radio Engineering and retired as MD of a USA company. Presently working as Consultant to Hospital and other institutions.
Please give a support by clicking on the social buttons below. Your feedback on the post is welcome. Please leave it in the comments.
P.S-If you enjoyed reading this, click here to subscribe to my blog (free subscription). That way, you'll never miss a post. You can also forward this website link to your friends and colleagues-thanks!
You may check on his previous article on 300 Repair Articles Published By Parasuraman
Likes
(

72

)
Dislikes
(

0

)