Tektronix 2465A SRAM Chip Replacement By Ferro Magnetic Ram A Great Success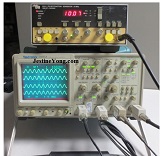 After some hesitation I today finally decided to start replacing the old 4464 SRAM in my Tektronix 2465A oscilloscope by a special Ferro Magnetic Ram chip type FM1608 from Ramtron. Below photo shows my scope as it was sold on eBay a couple of years ago by David from Texas in the USA.

And that was also before I later on also had replaced the old still from 1986 EaglePicher KEEPER 3V lithium backup battery like Robert from Texas in an article in the past showed on Jestine's blog. And for the same reason I now also wanted to replace the old battery backupped D4464 SRAM containing 8192 bytes with all scope's calibration data in it. Preventing losing the calibration of my rather expensive 350MHz oscilloscope in time after the battery no longer keeps that data stored in SRAM Memory. Which is most important when calibration done by professional firms – if they still do that for oscilloscopes over 30 years old – may well cost over 600 US dollar. Replacing the SRAM by Ferro Magnetic RAM thus has the big advantage that those chips do not lose their calibration data even when no chip voltage is present. And the retention time of these FM1608 is at least safe for another 10 years without any voltage in which they keep the present data fixed.
But before I really started removing that original 4464 SRAM chip I previously first had written down my scope's registered Calibration data in SRAM addresses position 1E00 to 1FFF. Which the scope shows in its left upper screen after the front scope buttons DELTA V and DELTA T together with SLOPE are pressed to start the Diagnostics Menu. And with the COUPLING button and the up/down buttons we select EXEC 02 which is the RAM test to write down all 16 bits values plus even or odd parity. In total 00h to FFh 16-bit register values.
Also after that to make sure that I could save the entire 4464 SRAM as bin file to check my written down calibration values I used a modified 28 pin Testclamp to 28 pin socket test cable to read all data as 27c64 8K chip on my TL866II programmer. The test clip I used had pullups on pin 27 (/PGM) and pin 26 (nc on 27c64 but CE on 4464!) plus 1N4148 diode to pin 28 Vcc to prevent accidentally overwriting the present data in my SRAM. Reading the SRAM as Ram data on the TL866II is not possible because that is only a RAM test to check all cells in SRAM without saving any present data that would be lost without any external supply voltage anyhow.
And on my TL866II programmer I had PIN CHECK disabled because wires to pins 26 and 27 from Test clip to socket are unconnected. And IC type detection disabled too because the 4464 can't be recognized this way and the TL866II doesn't support this 4464 chip either.
Which gave me the entire correct 4464 data which was saved as bin file. And as said I noticed that all 256 (00h-FFh)16 bit calibration register values I had written down matched exactly those in the SRAM position 1E00 to 1FFF. I covered both eproms with a sheet of paper before taking below photo. Because they can accidentally get erased by the UV flash of my camera.

Previous photo showed my now successfully replaced old NEC D4464C-20 SRAM by the on a quality 28 pins socket placed programmed pin compatible RAMTRON 1608 Ferro Magnetic RAM chip. And I also measured if my new Keeper battery still gave the right voltage on pin 28 of my new FM1608 chip, which indeed was a perfect 3.3V.
For programming the FM1608 chip I however bought a new GQ-4×4 universal programmer because the TL866II doesn't support these Ferro Magnetic Rams in a good way. And the GQ-4×4 does but still only the FM1608 and FM16W08 types. And the latter surface mounted version has even a much longer retention time than the DIP FM1608 chip version has. And I was able to buy 10 DIP versions on eBay for a fair price, but although the seller claimed they were new , they certainly were not!
However programming the 32K FM1808 and FM18W08 Ramtron types is required for replacing the standard 62256 battery backupped SRAMs or DS12xx Dallas types in the Tektronix 2440 memory scopes. Which is still possible but only on the GQ-4×4 by selecting the Dallas chip family DS1230y as useful replacement device. Something where the TL866II fails giving any support for Dallas chips or Ferro Magnetic Ram chips because it only resulted in many verify failures or it failed giving support at all!
Why the GQ-4×4 turns out to be a much better universal programmer. But still all programmers need many more updates before all chips are supported in the device list or any verify issues are completely solved. Like I experienced with the TL866II programmer.

On above photo the board was reinstalled in my Tektronix 2465A scope, the 5 flat cables reconnected and the 5 torx screws refitted. And the 2465A was completely ready to be closed and tested.
All scope tests PASSED without any issues whatsoever! Mission succeeded to my full satisfaction!
I now no longer need to worry losing my 2465A scope's calibration for at least another 10 years or so. Next photo shows the cable with test clip I successfully used to read the content of the D4464 SRAM in my 2465A oscilloscope with. The 3M test clip became very expensive but mainly because of high shipping costs that made the clip almost 3 times more expensive afterwards! But it was needed!


Above instruction for making the 2465A test clip SRAM copy cable => Use a safety diode 1N4148 to Vcc pin 28 to prevent accidentally shorting the backup Lithium voltage of your 2465A, and 2 pullups 100 ohm to keep /WE inactive and CE2 enabled on the D4464 SRAM on the test clip side!
I already know that reading the 62256 SRAMs in my Tektronix 2440 won't be so easy as was possible in my 2465A oscilloscope this article was about. Because for some reason I was still unable to successfully read those with my for the 2440 specially prepared external cable with 3M test clip like perfectly worked on the 2465A Tektronix with the copied D4464 chip! Because I kept getting verify errors on my TL866II programmer. (Maybe I will repeat this read and copy test again with my new GQ-4×4 programmer? It likely may work much better as it did with the other chips where the TL866II kept failing at verifying!). But 2 brandnew FM1808-70 Dip chips are already waiting for the time they will also be replacing the old SRAMs in my Tektronix 2440 memory oscilloscope. And therefore I probably have no other choice than to just immediately replace the old SRAM or SRAMs in my 2440 first before any calibration is done. And afterwards when the Calibration is done the FM1808 chip or chips will automatically contain and keep the correct data in their memory. For also at least another 10 years!
And copying an already programmed FM1808 or other FM1608 chip is easy since no external voltage is required to prevent them from losing their internal data. And the chip can just easy be pulled from its socket to be read and afterwards simply be put back in its socket without any of the issues that battery backupped SRAM chips suffer from. Something that Tektronix hoped to solve by in newer models using the internally backupped Dallas DS 1230 and family chips. Those that I believe for some strange reason never were placed on sockets but soldered straight into the mainboard of the 2465B and other models. Probably because those modules were simply too high to easily fit under the metal outside of the case.
Recently I became a member on the special Facebook Tektronix family group. A daily growing family of Tektronix users and Tek tech lovers. Because even after 30 years or more these little machines are almost indestructible and very much wanted by engineers who gladly pay for a well supported brand of measuring instruments. On which even long after the warranty of service on these oscilloscopes and other equipment has passed, Tektronix still supports the world of Tektronix enthusiasts, by also sharing many much valued excellent service manuals for free. Although some people go to extreme and easily pay 50 US dollar for something as small as a knob to fix a broken knob on their very old but some still perfectly working Tektronix oscilloscope. Why others are already thinking of using a 3D printer to design and make hard to find replacements parts with.
Anyway this article was for those readers that also want to make sure they never ever have to recalibrate their expensive and much valued 350MHz Tektronix 2465A oscilloscope, that still but just also triggers up to signals with an incredible about 1GHz frequency! Don't believe me? Just have a look at one of the contributions on the mentioned Tektronix Facebook group where someone showed just that!

Albert van Bemmelen, Weert, The Netherlands
Please give a support by clicking on the social buttons below. Your feedback on the post is welcome. Please leave it in the comments.
P.S- If you enjoyed reading this, click here to subscribe to my blog (free subscription). That way, you'll never miss a post. You can also forward this website link to your friends and colleagues-thanks!
Note: You can read his previous article on How To Make Your Own HDMI Reader Easy
Likes
(

50

)
Dislikes
(

0

)