How To Completely Test LCD Inverter Transformer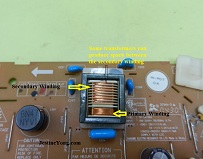 The function of LCD TV/Monitor high voltage transformer is to produce high AC voltage (from few hundreds to more than a thousand AC volt) to light up the CCFL backlight. If this transformer have problem it will cause the LCD screen to light up for a second and then shutdown or to have dim display problem.  Basically the high voltage transformer can have four types of problems such as:
1)      Open circuit especially the secondary winding
2)      Shorted in secondary winding
3)      Increase in resistance in secondary winding
4)      Breakdown when under load
Note: The primary winding seems to be quite robust and rarely give problem.
How are we going to know if the high voltage transformer have problem or not?  The answer for it is to use the right test equipment to check it.
1)      Open circuit especially the secondary winding
All secondary winding should have resistance between several hundred to several thousand Ohms. Just place your Ohmmeter at the secondary pins and you should get the Ohm reading. If you did not get any reading means the secondary winding already open circuit.

An open secondary winding can cause display to shutdown in few seconds or dim display depending on how many transformer is used in the circuit design.  This means if the circuit design is only using one high voltage transformer to support one backlight and if the secondary winding is open circuit then there will be dim display problem.  If it is uses two transformers and one of the transformers secondary winding has an open circuit then the symptom would be display shutting down in a second or two.
Note: Primary winding also has resistance and the Ohm value is very small.
2)      Shorted in secondary winding
If there is a shorted secondary winding, a normal multimeter would not be able to detect it. You need to use a coil tester such as the Blue Ring Tester.  For a much bigger high voltage transformer you can expect at least 4 LEDs will light up.  If the tester did not light up at all means the secondary winding is shorted.

Note: You also have to take note that a slighlty small high voltage transformer secondary winding may not be able to read by the Blue Ring Tester.  The tester could read up until 2 or 3 LED lights only. However, if the LCD inverter has more than one high voltage transformer then it would be easy to judge the result (comparison test).

You can use the comparison method on the two transformers and locate the faulty one

Some designs only have one transformer but you still can compare the winding because the above transformer have one primary winding and two secondary windings
3)      Increase in resistance in secondary winding
You will be surprised that the resistance in secondary can increase when there is a problem. It is due to a prolong increasing in temperature in the high voltage transformer.


If you notice a vast different in Ohm's reading (usually higher resistance) meaning to say  the transformer is bad.
I have found many LCD high voltage transformers problem are due to increase in resistance in secondary winding in one of the transformers.
Note:  A slight different in resistance reading is acceptable when checking on two similar transformers.
Most of the LCD inverter boards have more than one high voltage transformer thus it would be easy to compare the secondary winding and find out the problematic one.
4)      Breakdown when under load
Although is rare, I did came across one before. On top of the secondary winding I saw a very tiny spark while the LCD Monitor inverter was working. It caused intermittent display shutdown. When I took out the transformer and test it, it seems to be working fine. A replacement brought the LCD Monitor back to life again.

The question now, what if the transformer is fully covered and you can't see the spark. In this case, it would be a little bit tough to solve it. What you can do is to make sure there is no bad components in the inverter circuit and all the CCFL lights are good (you can test them with a CCFL backlight tester). Check the transformer for good resistance reading and make sure no shorted reading (test it with a Blue Ring Tester). This means if you have checked all the parts and the LCD Monitor or the TV still have intermittent display shutdown problem then there is a possibility one of the high voltage transformers could be breaking down when under load.
Conclusion- I hope the above article will help you in solving LCD problem that is related to the inverter high voltage transformer. If you have additional method in testing/checking of the high voltage transformer please do leave your comment below-thanks.

This article is brought to you by Jestine Yong
Please give a support by clicking on the social buttons below. Your feedback on the post is welcome. Please leave it in the comments.
P.S- Do you know of any your friends who would benefit from this content that you are reading now? If so, forward this website to your friends or you can invite your friends to subscribe to my newsletter for free in this Link.
You may also interested in LCD TV and Monitor shutdown link below:
Likes
(

411

)
Dislikes
(

2

)