Toaster Trips House Circuit Breaker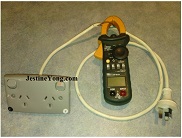 Our toaster started to trip the 10 Amp circuit breaker when it was turned on. My wife, being a smart lady, thought it might be due to the fact that the microwave oven, toaster and jug were being used at the same time. She turned off the jug and microwave and tried the toaster. The circuit breaker tripped again. She disconnected the power board that the toaster was on and it tripped again (you can see why I married her…)
One of the hardest parts of this repair was removing the screws that held the plastic body onto the actual toaster – I have never seen these types of screws before! They weren't even safety torx or something similar. Anyway, an electric drill sorted out that problem – with a little time and patience.
Once I had the cover off, I could see how clogged it was with crumbs. It really needed a clean! I carefully brushed out all the burnt crumbs. To test the unit, I ran it from my isolation transformer and a RCD power block. Before actually starting the unit, I decided to do some basic checks first. 

Measuring the resistance of the circuit with the switch in the closed position gave a result of 31.8 Ω.
I next decided to power up the toaster and see what it did. I was surprised – it seemed to work fine. What had changed? Was it a fault with the house circuit breaker? Well, no, since other appliances worked fine. It was just the toaster that had tripped the breaker. Further investigation was required. Next step was a current draw test.
I have made up a simple unit for testing current without having to break a circuit. 

By using a power point and splitting the outside shielding (making sure to keep the actual wiring shielding intact), a current clamp can be fitted onto one of the wires (either active or neutral).

By using Watt's Law, (P = V x I or Power in Watts = Voltage x Current) I was able to calculate that the lower wattage should draw 6.875 Amps and the higher end of the wattage should draw 7.5 Amps.

After testing with my current clamp, the results showed a healthy 7.47 Amps. So with this reading, why did it trip the house circuit breaker? Only one reason made sense.
With the accumulation of crumbs that had been toasted, a build-up of carbon had amassed. Carbon being conductive in this form was enough to create a component short between the resistance wires in the toaster, therefore decreasing the circuit resistance. This in turn, allows the current to increase to a point where it would trip the circuit breaker. I would have liked to prove this, but as I said, I cleaned the toaster before pulling it apart.

So what is the moral of the story? Two things.
Leave the appliance in the state that it was given to you so that you can imitate the fault
Even things as basic as toasters need maintenance!
But most importantly, I now have a happy wife with a working toaster! I was able to video this repair if you are interested. The link is below:

This article was prepared for you by Mark Rabone from Australia.
Please give a support by clicking  on the social buttons below. Your feedback on the post is welcome. Please leave it in the comments.
P.S- Do you know of any your friends who would benefit from this content that you are reading now? If so, forward this website to your friends or you can invite your friends to subscribe to my newsletter for free in this Link.
Note: You can check out his previous repair article below:
https://jestineyong.com/repair-automotive-clock/
Likes
(

100

)
Dislikes
(

0

)