Track Leak Under SMD Resistor Found In SHARP CRT TV MODEL 21FX300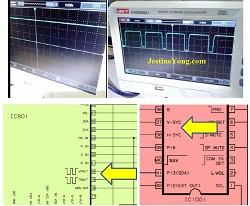 This TV was brought by a known customer, saying that his mother got it free from someone and asked me to check up whether it could be brought back to working condition. Incidentally, his father was my school classmate and that is why I accepted the CRT TV, which I have more or less discontinued taking in due to its heavy nature and handling problems. In this case, he himself shifted the TV inside after I did the cleaning work in front of him, for which the TV was kept on the verandah of the car porch.
On inspection of the board, I saw a cap burst in the SMPS primary area and I replaced it. A couple of other caps were also changed in the control area. After that, I disconnected the jumper wire of B+ rail that goes to the FBT (LOT) and connected a 100W bulb in its place. Then applied power and did not find any output. As all other components in the primary and secondary area were ok, I removed the STR and connected a three wire module (leaving its green wire and connecting only the black (ground) and red (B+ return from primary of SMPS transformer) wires). This is the safest and fastest way to check whether the secondary has any problems. I had also done ring testing of the transformer which showed healthy and only after that I connected the module. (As I have mentioned above this module several times in my previous articles, I am skipping it this time!)

I got output and as you can see from the above picture, I adjusted the potentiometer to get 125V output, which is the standard for this circuit. So, there was nothing wrong with the circuit and the STR6740 was defective. I replaced it and did the same bulb test and got 125V. Then connected the jumper wire and applied power. The set remained in standby mode and the B+ was dropping to around 25V. I removed the Horizontal Output Transistor and connected an LED between the base and Emitter and applied power. The LED lit, which showed that the oscillation was taking place. So, the next suspicion was LOT or FBT. I removed it and connected only the primary points to the board and applied power and got 25V confirming that it was faulty. The ring testing showed healthy, though! This is something we have to remember always. The ring testing cannot be 100% relied on. Of-course it aids in troubleshooting. But what happens on a load is something beyond the capability of a ring tester. So, the method I used is a short cut for checking. You can see the picture below that shows the connections and the result:

I ordered for it and got the exact replacement and fixed it. I also replaced the Horizontal output Transistor as a routine precaution.

Then when I applied power the TV was found working and I adjusted the screen and focus voltage to the desired levels. Gave a video input and got good result. Though I wanted to replace all the electrolytic capacitors and do thorough retouching of board, the customer was in a great hurry to get the TV as his parents were unable to manage without an entertainment. The OSD was also not proper. I cautioned them that the TV is most likely to become faulty soon.
Nevertheless, he took it and in came the TV within a week with the complaint that there was no sound. I checked the Sound IC and surrounding components and just replaced the electrolytic capacitors. I used my own make Sound Tester (Just a TDA series stereo amplifier assembled in a box with a Transformer power supply) I had been using headphones to listen to. But as we can expect sudden shot of sound at increased volumes while testing various stages, which is not only irritating but harmful to the ears, I fixed two LED tiny speakers on top of it later. Though I could always use my oscilloscope, I prefer to use this method, as human senses are most reliable and easy to follow. Just see the pictures below:

I also downloaded the datasheet of this sound IC, AN17820B and checked the voltages and noted it down. The sound input was present, but output was absent. The voltage at pin 5 was missing. According to the datasheet, the pin has to be kept pulled up to get released from standby. Just see the pictures below to follow these better:

Then I suspected R305 SMD resistor marked 274 (270K) as it could leak underneath. I replaced it with a regular resistor as I was not having that in stock. But even then the voltage at pin 5 was absent. I even tried by isolating pin 5. Then I looked through the microscope and noticed that the tiny track from the 274K was going to pin 5 of IC under an SMD resistor (R315), which had a mischief look! (LOL) So cut the track and wired it directly to pin 5. Also scraped both sides of the track that passed under the R315. Following pictures would once again help us follow these statements better:

Then the voltage was present and I re-soldered pin 5 and the sound output became normal.
At this stage, I told the customer adamantly that I was going ahead with replacement of all electrolytic capacitors and do a thorough retouch of the board, as otherwise my reputation will be at stake, which was agreed upon. Thus, I carried on with my amusing hobby of replacing every other electrolytic capacitor on the boards and also did thorough dry solder patch up. It took several hours and a few days too. Though the result was damn good, there was one hitch. The OSD display was shaking, jumping and vanishing still. This could be due to the Hor/Vert sync signals not reaching or not proper enough. As the horizontal sync signal was ok when checked in oscilloscope, I checked the Vert sync signals and found this to be awry. The TV used one small system IC and one Jungle IC. Let us see some more pictures:

From the IC 801 the outputs were from Pins 19 and 20, which directly went to 37 (Vert Sync) and 38 (Hor Sync) of IC1001. IC801 was M61262 and IC1001 uController, if I have read it well, was IXB835W122 or it could also be IXB335W122. The uController did not have an external memory IC. Now, let us look at the Vertical and Horizontal Sync Signals:

The diagrams you see above are not of this TV. But it is of a different model, using different ICs, but has more or less same connections. Pin 1 of IC801 is the Vert Ramp and it is connected with 105 (1uF) disk capacitor. I replaced this as advised by my friend. I also replaced the Vertical IC and the relevant components from which the feedback comes to the Jungle IC. But nothing could solve the jittery OSD, though it became slightly better to the extent that the OSD remained stable for a few seconds on switch on.
The next choice was to replace IC801. As this IC was not available in the market and customer was fidgety, I told them to keep using the TV in this condition. There was no other go. Here is the shot of the final picture, along with two pictures of defective components, one when it was given first and the second after the above laborious work:

Anyhow, mission got accomplished as the OSD problems did not obstruct viewing of Videos. So, satisfaction had every reason to jump into the collection bag.

This article was prepared for you by Parasuraman Subramanian from India. He is 72 years old and has more than 30 years' experience in handling antique equipment like Valve Radio, Amps, Reel Tape Recorders and currently studying latest tech-classes conducted by Kerala State Electronics Technicians' Association. He has done graduation in BBA degree, private diploma in Radio Engineering and retired as MD of a USA company. Presently working as Consultant to Hospital and other institutions.
Please give a support by clicking on the social buttons below. Your feedback on the post is welcome. Please leave it in the comments.
P.S-If you enjoyed reading this, click here to subscribe to my blog (free subscription). That way, you'll never miss a post. You can also forward this website link to your friends and colleagues-thanks!
You may check on his previous article on Four Different Cases Of Backlight Issues
Likes
(

54

)
Dislikes
(

0

)