Track Served As A Fuse To Save CRT TV From Lightning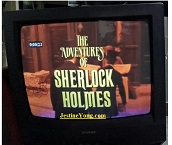 This Sharp 20" CRT TV was brought to me in dead condition, after a lightning strike. As usual, my first job was to clean up the in and out of TV, which I did. Removed the PCB after discharging the anode of CRT and disconnecting yoke, Degaussing coil, front panel, speakers and Earth.

On inspection, I noticed that a track has got cut on the SMPS, cutting off the B+ supply.

I restored it. Looked for any other burst, defective components and did not find any. Disconnected the B+ line to LOT /FBT (Line Output Transformer – Flyback Transformer) Loaded a 100W Bulb in its place and applied power through a 200W Bulb. The output was perfectly showing 110V, to my amazement and relief!
Disconnected the Power Supply, discharged the Tank Capacitor of SMPS and restored the jumper to FBT. Loaded the PCB to the CRT and checked! It showed dull and defocused raster.

As I know that such a thing can happen due to dry solder on the Focus Pin of CRT, disconnected the Power, and removed the CRT PCB and checked the Focus supply pin and indeed it was a bad solder. Touched it up and reconnected the CRT PCB and switched on. Now the raster was good and the blue screen showed correctly. Applied a Video and tested the TV for many hours and did not find any problems.

After having satisfied that the CRT is back to life, returned it to the customer. A simple lucky job, which too got added to my satisfaction bag, as some sort of bonus!

This article was prepared for you by Parasuraman Subramanian from India. He is 69 years old and has more than 30 years' experience in handling antique equipment like Valve Radio, Amps, Reel Tape Recorders and currently studying latest tech-classes conducted by Kerala State Electronics Technicians' Association. He has done graduation in BBA degree, private diploma in Radio Engineering and retired as MD of a USA company. Presently working as Consultant to Hospital and other institutions.
Please give a support by clicking on the social buttons below. Your feedback on the post is welcome. Please leave it in the comments.
P.S-If you enjoyed reading this, click here to subscribe to my blog (free subscription). That way, you'll never miss a post. You can also forward this website link to your friends and colleagues-thanks!
You may check on his previous repair article below:
https://jestineyong.com/unsatisfactory-attempt-to-restore-panel-problem-in-sony-lcd-tv/
Likes
(

66

)
Dislikes
(

0

)