Trick For Testing SMD Components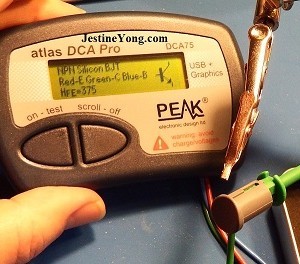 I thought I would share some of my tricks fortesting SMD's, and hopefully some of you may get some help from them. First, to check them with my Analog or Digital MM's, I use a small tin that has a thin layer of slightly firm foam inside.

I press the SMD into the foam as in the picture, and it helps keep the SMD steady and from jumping around. And if it does jump around, the tin keeps me from losing the SMD, and we all know how hard it can be to find them…
If I'm not sure what the SMD is, I will check it with my Peak Atlas DCA75 Pro, or some other tester, I solder pieces of wires onto the leads so my grabbers can get a good connection. As you can see in the photos below, I use copper heat sink alligator clips inside the clips on my Helping Hands because they are not as strong and don't have pointed teeth that may damage the SMD and the wires.



I hope some of you get some benefit from this.

This article was prepared for you by Robert Calk Jr. from USA  and he is a Hobbyist. He's been learning Electronics for a year now and really enjoy it. He welcomes any comments and suggestions you care to contribute.
Please give a support by clicking on the social buttons below. Your feedback on the post is welcome. Please leave it in the comments.
P.S- Do you know of any your friends who would benefit from this content that you are reading now? If so, forward this website to your friends or you can invite your friends to subscribe to my newsletter for free in this Link.
Likes
(

68

)
Dislikes
(

0

)