TV Set Top Box Repaired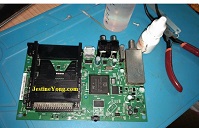 Fault Symptom: Set top box doesn't release Standby Mode.

I was watching TV and suddenly set top box was shut down after turning power ON again it does not change light sequence (when set top box was in working conditions there were three lights up in sequence on startup. first standby, remote and Alert after the process of start up only one light glowing that is Red and it becomes Green when pressing On/Off switch from remote control.)
So here problem is when I press the button on Remote control there is no effect on set top box red standby light not changes to green.

I have doubt on remote control so I have checked working of remote control switches under Mobile Camera found Ok (Pressing switches while IR Sensor facing towards Camera of Mobile phone it shows violet light glowing when you press any switch)this way remote found OK.
Now standby light is showing that means power adapter is also OK. For further inspection I have opened the Unit to find what wrong inside is.
On opening I found the layer of dust over the components….

So I have cleaned the dust using IPA & turpentine and of course with using dust mask on the face.
It is very irritating work for me to clean the dust because I have severe sinus problem sneezing at least 15 to 20 times when dust get triggered in nose. But what can be done work is work.


After cleaning process done with using hot air blower I have given heat on main IC & surrounding components so that IPA & turpentine will evaporate from underneath of components.

Reassembled the unit after completely dry up of the PCB. And for testing I have fitted the unit with my setup and turned it on with remote control now standby light is release from Red to green and now TV programs get start to work.

Sometimes problem solving is not that hard but it becomes hard when we do over thinking before analysis. I have also done these mistakes in past that assuming unavailability of tiny SMD cannot solve the problem & I just scraped the equipment. Also spending time for repair is not worth……. But every time components are not at fault………………..

This article was prepared for you by Yogesh Panchal who works as a Computer Hardware Engineer in Mumbai India.
P.S- Do you know of any your friends who would benefit from this content that you are reading now? If so, forward this website to your friends or you can invite your friends to subscribe to my newsletter for free in this Link.
Note: You can check his previous repair articles in the link below:
https://jestineyong.com/computer-atx-smps-no-power-repaired/
Likes
(

61

)
Dislikes
(

0

)