Two Blue Tooth Speakers With No Sound  Repaired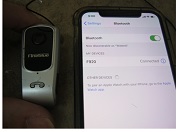 A guy next door was waiting for me outside the shop and wanted to get his blue tooth speakers fixed. He has plenty of them and today he brought me two for repair.

I have repaired a lot of these and they are very easy to fix.

With a flat screw driver I popped the black cover open and right away I could see the fault.
The wires were not loose but they were twisted together and that is usually the problem with these devices.

These are very thin wires and they are isolated. To add solder to it you have to use heat and when the color on these cables starts to change just add fresh solder and flux. The process is done and you will see solder sticking to the wires.
The final thing to do was to solder the wires back to the pins of the speakers and you are all done.

I connected it to my iphone and test the sound and as expected the sound was loud and clear.
Mission Accomplished.

This article was prepared for you by Waleed Rishmawi, one of our 'Master Authors' and currently working in the Bethlehem area of Palestine repairing electrical and electronic equipment.
P.S- Do you know of any your friends who would benefit from this content that you are reading now? If so, forward this website to your friends or you can invite your friends to subscribe to my newsletter for free in this Link.
Note: You can check his previous repair articles in the link below:
https://jestineyong.com/lg-vacuum-cleaner-with-power-issue-repaired/
Likes
(

50

)
Dislikes
(

0

)