Two Computers SMPS Saved From E-Waste!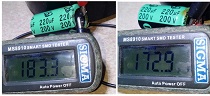 I had about four of these Computer SMPS lying around with me, couple of which was taken out of my PC from time to time. One or two might be from a 'getting-rid-off' campaign done by one of my brothers. Anyhow these have been lying unused for almost 7 years. All of them were reconditioned and kept as a standby. Since the PC was given to my grand children for their school use, these SMPS got stranded, as now I am using a laptop gifted by my elder son.
So I gifted all the four SMPS to the hospital and requested the IT Administrator to try it out before fitting it in any computer as a replacement. He reported that two of the SMPSs fumed when connected! That's how these two landed back on my service desk in the home. When I opened one of them, I saw a cap burst in the primary.

The ESRs of all other caps were good and therefore I did only replacing these two caps and doing the retouch of the board. Also cleaned the board thoroughly and it shined like new. It is my routine to check the retouch of the board and inspect it for any man made shorts, which I do using my digital microscope:


After that when I applied power and found everything was working, I fixed the cover and gave a 12V, 25W automobile bulb as a load and allowed it to run for a few minutes. It was working fine.

Opened the second one and found a 1000/10V cap burst. Since the fuse was intact and the ring test on the primary of the SMPS showed healthy, I knew that could only be the problem. Checked the ESRs of the caps and found these way out.
The board had already undergone dry solder patch up. So I removed the caps one by one and checked. Look at my findings:



The 1000/10V cap you see in the left above is not the bulgy one. The reading of a new cap is given on the right for a reference. After replacing all the caps, I applied power and found the output was ok.

But the fan did not rotate! Checked the voltages at the pins and found these to be ok.

So, replaced the fan also. After ensuring everything was working fine, fit the cover back and gave a load of the automobile bulb like before and allowed it to run for a few minutes.

Missions accomplished satisfactorily and it did a double jump to the collection bag!
Special notes: (1) I believe the technician fraternity owns the responsibility to control the e-waste and protect the environment (2) The methods employed in troubleshooting described in this article are very ideal for adaptations, like close inspection of a dry solder patch up done. (3) My interest was aroused in SMPS troubleshooting after reading Jestine Yong's internationally famous book. That's a great book one must have and read and refer to it too quite often. (4) It is always a thrilling experience to set right a defective device and no reward can ever be as befitting as the satisfaction and boost we get after accomplishing the results!

This article was prepared for you by Parasuraman Subramanian from India. He is 72 years old and has more than 30 years' experience in handling antique equipment like Valve Radio, Amps, Reel Tape Recorders and currently studying latest tech-classes conducted by Kerala State Electronics Technicians' Association. He has done graduation in BBA degree, private diploma in Radio Engineering and retired as MD of a USA company. Presently working as Consultant to Hospital and other institutions.
Please give a support by clicking on the social buttons below. Your feedback on the post is welcome. Please leave it in the comments.
P.S-If you enjoyed reading this, click here to subscribe to my blog (free subscription). That way, you'll never miss a post. You can also forward this website link to your friends and colleagues-thanks!
You may check on his previous article on Dropped Value And Burst Capacitors Found In Impex DVD Player Prime HD
Likes
(

62

)
Dislikes
(

0

)