Two Cracked Diodes Found In Zika Welding Machine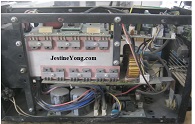 Zika welding machines are very expensive because they are heavy duty and they are so powerful when it comes to welding but when the user abuse the machine, it will go into shut down or even blow up some parts in the process. Take a look

There was no life in this machine when it was brought for repair and first thing to do is to take it apart and found out what went wrong.

The power was reaching the four main capacitors and the upper board was getting the voltage needed but it was dead.
I did the usual check: Mosfets, diodes and the main brain of the machine but everything checked fine except…..

I found two cracked diodes on the bottom side of the machine. When I say cracked that means this machine was over heating and then these parts blew up literally. The part number of these diodes: FR104 and they come with a 10K ohm resistor on the same line.

This is the location of these diodes and on the same line the 10K resistor which shows a sign of overheating but checked fine.
I have the same design welding machine and I used a BYV26E which are the same specification of the original cracked diodes.

Please click on the above photo to access the datasheet

These are the new replacement of these diodes. It was time to power on the machine and tests it out.
I power on the machine and it came on but something was wrong. The fan was running very slowly and was not producing enough air to cool down the welding machine. I called the customer and explained the new situation to him and to my surprise, he told me that he has been welding on that machine intensively for over a week and he could not hear the fan running.

I took the fan out for testing. Since it was running very slow I assumed it was not getting enough voltage so I tested that but the voltage reading there were 220 AC volts which is according to specifications. I dusted the fan coil and sprayed some lubrication oil there but it did not help so I decided to add a new working fan in there and test the machine.


The fan was spinning producing enough strong air to cool down the machine and I got the right voltage reading on the output terminals of the machine. I took it to my brother next door for an actual welding test and it worked like a charm.
Mission Accomplished.

This article was prepared for you by Waleed Rishmawi, one of our 'Master Authors' and currently working in the Bethlehem area of Palestine repairing electrical and electronic equipment.
P.S- Do you know of any your friends who would benefit from this content that you are reading now? If so, forward this website to your friends or you can invite your friends to subscribe to my newsletter for free in this Link.
Note: You can check his previous article in Mariotti Dental Device Repair
Likes
(

72

)
Dislikes
(

0

)