Two Faults On A Hovering Board Repaired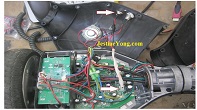 A lady brought a hovering board for repair and explained that it was not used for a while due to the fact that the external charging port was damaged.

This is a common fault in these kinds of devices and usually takes about thirty minutes to get this machine up and running but this one had an extra fault that needed my attention.

As you can see in the photo, two pins are broken and the whole charging port needs a replacement.
After I took the machine apart and installed the new charging port. I powered on the charger and connected it to the hovering board; the charger light remained green and that is not fine. Usually when the hovering board is not connected to the charger, the light should be green and steady but the moment I plug it into the hovering board, the light on the charger should change to a steady red light. When the charging process is done, the light should turn back to green and according to this, something was faulty.

The 42 volts were reaching the battery (which was my main suspect) but for some reason it was not charging.
When I tested it with my multi meter, it was showing only 4 volts which an indication of a bad battery.

I unplugged the old battery out and plugged in a used one that I usually have in the shop which mainly I used for testing. I powered on the charger and the moment I did that, the light on the charger changed to red indicating that the charging is in progress.
I called the customer and informed her of the repair situation. She did not want to wait for the new battery to arrive but instead she was willing to accept and pay for the used one that I already have in the shop.
I charged up the battery and tested the hovering board and it was running fine. I made an order of several batteries to keep in shop for future repair and to keep one for testing purposes.
Mission Accomplished.

This article was prepared for you by Waleed Rishmawi, one of our 'Master Authors' and currently working in the Bethlehem area of Palestine repairing electrical and electronic equipment.
P.S- Do you know of any your friends who would benefit from this content that you are reading now? If so, forward this website to your friends or you can invite your friends to subscribe to my newsletter for free in this Link.
Note: You can check his previous repair articles in the link below:
https://jestineyong.com/iphone-11-pro-broken-screen-replacement/
Likes
(

50

)
Dislikes
(

1

)