Using Current Limiter To Test A Faulty LCD Projector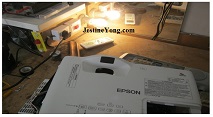 A school manager brought his LCD projector for repair and explained that the device was totally dead.

When I powered on the device, the power indicator did not come on which confirms what the customer said about this device.

To be honest with you, taking the top cover off was not an easy task but finally the cover was off and I could see right away that someone has been into this device.
If you look to the previous photo, you would see red marks all over the flex cable connectors and somehow the person who attempted the repair was not successful.

When dealing with a dead device, the first thing to go to is the fuse and sure enough it was open. I put a piece of wire over the fuse, connected the device to my current limiter and push the power button. Take a look.

As seen in the previous photo, there is a serious short in the device so I have to test further to find the cause of that short.

I traced the first board that is holding the fuse to this board which I believe it is the power supply.

That is the first thing that I saw when I took the board off and from experience,
I am sure that there are another components that are faulty as well.

That is the main capacitor that was damaged and obviously it needed a replacement.

A shorted Mosfet (12N50 E) was found in the power supply section and had to be replaced as well. It took me a while to find a replacement but finally the part was here and was ready to go into the power supply along with the damaged capacitor.

Click here or the above photo to access 12N50E datasheet

When the device was put together and connected to my current limiter; you can see it in the background that the short was gone and the LCD projector light was coming on and that put a smile on my face.
I called the customer for pick up and he was delighted that the device is up and running and we made a deal to bring all the school stuff for repair when needed and to that I can say:
Mission Accomplished.

This article was prepared for you by Waleed Rishmawi, one of our 'Master Authors' and currently working in the Bethlehem area of Palestine repairing electrical and electronic equipment.
P.S- Do you know of any your friends who would benefit from this content that you are reading now? If so, forward this website to your friends or you can invite your friends to subscribe to my newsletter for free in this Link.
Note: You can check his previous article on 12 volt power supply repaired
Likes
(

58

)
Dislikes
(

0

)