A handheld noisy vacuum cleaner repaired. Model: Philips FC6050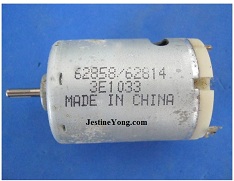 When this handheld vacuum cleaner was brought to my shop and I powered it up, it was very noisy and the sucking on this machine was also weak. I was not sure if I should waste my time repairing it or not. I was really debating about it but since it belonged to a customer who always brings me stuff to repair, I decided to fix it.

It is a battery powered vacuum cleaner. It comes with a power charger and a charging stand. It runs on 3.6 volts and I could see it was an old one judging from the dust and model number on the machine. I used to have one just like it and I have not used it for a long time.
That is why I was encouraged to fix it because I can use the parts that I have on my old machine to repair this one.  So, let us see what I can do to repair this one.

A few screws off and I was able to see what inside this machine. It is not complicated at all.
Only three batteries, a motor, and a tiny power board for charging the machine.

Since the main problem is the noise when the motor is spinning, I head directly to the motor and checked it out. I soldered the two connection off and too the motor out. I plugged it to an external power source. A loud noisy sound came out when the motor was spinning.

I tried to lubricate the motor but it was no use. The sound went down just a little bit but it was still noisy.

Here is the replacement motor that I took out from my old battery powered vacuum cleaner. It was not a new motor and I informed the customer about it. He did not have any problem with it. So I went ahead and replaced the motor.
I powered the hand held vacuum cleaner and it was running nicely and hardly any noise coming out of it. I was please to see that.
For a moment I was a little bit scared that the motor on my old machine, because it was deserted for a long time, it would make noises too. It was running fine. Mission accomplished.

This article was prepared for you by Waleed Rishmawi, one of our 'Master Authors' and currently working in the Bethlehem area of Palestine repairing electrical and electronic equipment.
Please give a support by clicking  on the social buttons below. Your feedback on the post is welcome. Please leave it in the comments.
P.S- Do you know of any your friends who would benefit from this content that you are reading now? If so, forward this website to your friends or you can invite your friends to subscribe to my newsletter for free in this Link.
Likes

(22)
Dislikes

(0)
Likes
(

0

)
Dislikes
(

0

)