Von HotPoint Microwave Oven Came In With "No Heating" Problem Now Repaired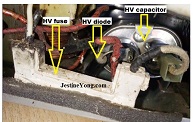 I received this microwave in my shop from a client who wanted to see if it will ever work again, according to her she had given up on it and it has stayed in her house for over one year but before throwing it away to the dustbin decided to try a technician for the final word. Upon opening it I also almost give up on it as you can see the picture below:

Too much dirty from cockroaches and lots of area with signs of stress and I almost returned it as not repairable.
I was also not particularly happy with this connector to the magnetron as you can below:

So where do I start? First I wanted to see if the low voltage circuit was working well and the best place to do this test is to disconnect the high voltage transformer primary input (two wires) and connect the meter in AC mode, operate the microwave normally and observe the meter reading.
This is what I got, 227.4 AC. This means the primary circuits are working well and therefore I can proceed with the high voltage circuits.

High voltages circuit in microwave oven includes magnetron, high voltage transformer, high voltage diode, high voltage capacitor and high voltage fuse. I have done detailed analysis and how to test these components in my book microwave repair made easy sold here.
First I checked the high voltage fuse and it was open circuit, next I checked the high voltage diode and also found it dead short. Using multi-components tester to test high voltage capacitor and I also found it dead.

After replacing these components I decided to test the machine using the old magnetron, the best test for magnetron is direct replacement but I decided to use the same.
I re-assembled everything including the back cover since it is not recommended to power the microwave oven without the back cover for safety purposes.
I used a glass of water and I applied power to the microwave and set the time to one minute, after the lapse of one minute I decided to see if there is any hope, to my surprise the water was extremely hot.
I contacted the customer about the machine and she was so happy by success report.

Thank you
Stay safe

Humphrey Kimathi is from Nairobi Kenya and the author of:
1) Lcd-Led television repair guide
2) Microwave Oven Repair Made Easy
3) CRT Television repair course
4) Basic Electronics Course For Beginners
5) Basic Electronics course.
He is also a blogger at Electronicsrepairmadeasy.com
Please give a support by clicking on the social buttons below. Your feedback on the post is welcome. Please leave it in the comments. If you have electronic repair articles to share with us, please contact us HERE.
P.S- If you enjoyed reading the above article, click here to subscribe to my blog (free subscription). That way, you'll never miss a post. You can also forward this website link to your friends and colleagues-thanks!
Note: You may check out his previous post on 32 inch LG Television Model 32LH20R Dead, Now Repaired
Likes
(

63

)
Dislikes
(

0

)