Voxson HT-10 Home Theatre Repair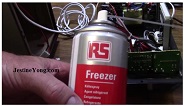 This 5.1 channel home theatre amplifier was brought in with an unusual problem. The system worked fine, but every time quiet voices were used on the video, the sound would drop out dramatically. I hadn't heard of this before, so was keen to try and diagnose the fault. First things first, turning on the unit showed no signs of life.
This is not what the customer had complained about. After removing the back of the housing, cables that had been disconnected could be seen. I found out later that the customer had the back off to check it out for himself & had not refitted the cables. After they were reinserted into their sockets, the amp came to life.

The customer provided the remote control and this needed to be tested as well. This was easily done by using either a movie camera or mobile phone camera. All buttons showed the ultra-violet light flashing, proving it was operating.
This unit has a test cycle that can be accessed using a 'test' button on the remote control. Each channel is individually tested and sound can be heard through each speaker separately. After discharging the main filter capacitors, tests were carried out on the amplifier board, including capacitors, resistors and transistors. All of these tested within limits. 

After powering up the amp, freezer spray was used on the power transistors in the hopes that this would change the fault conditions. However the problem remained the same.
After consulting with Jestine, it was decided to replace the power transistors. These were TDA7377 & TDA7265 amplifiers available out of Hong Kong for a reasonable price. Installation included an insulator behind the TDA7265, whereas the TDA7377 was bolted directly to the heat sink, using thermal paste on both parts.

After 3 hours of testing with the volume loud enough to annoy the neighbours, all sound frequencies were working well. A satisfied customer returned to pick up the home theatre for his next movie marathon!
If you are interested in a video of this repair, please follow the link below:

This article was prepared for you by Mark Rabone from Australia.
Please give a support by clicking  on the social buttons below. Your feedback on the post is welcome. Please leave it in the comments.
P.S- Do you know of any your friends who would benefit from this content that you are reading now? If so, forward this website to your friends or you can invite your friends to subscribe to my newsletter for free in this Link.
Note: You can check out his previous repair article below:
https://jestineyong.com/electronic-kettle-not-turning-off-miraclemax/
Likes
(

106

)
Dislikes
(

0

)