Warning For Bad Blu-Ray Discs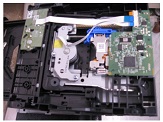 You probably never guess what happened to me today!
I was installing a program from an older burned 25GB BluRay Disc that I had burned in the recent past at 4 speed. And after a half hour or so reading that disc I suddenly heard a very loud bang! It really scared the hell out of me!
It was so extremely loud that I first thought that it had something to do with a power surge or a blowing up electrolyte in one of my devices. But I then noticed that it was the top BluRay drive that had a completely to pieces exploded Verbatim white inkjet writeable 25GB disc inside. The disc I was reading from. So when I opened that tray I saw the pieces that came out and I then immediately switched off my quad-core P5KPL-AM SE computer. And I removed the LiteOn HS16NS55 player/burner from my desktop case. Next photo shows the remains of my 25GB Verbatim BD disc.

I examined the text on my disc to remember what data I now had lost. Sadly these last days I had more discs lost while burning to Primeon 2x-8x 50GB BD-DL discs, but those I could easily repeat by burning again to Verbatim 50GB BD-DL discs. Apparently even if we upgrade our older burner drives to newer firmware versions, they still too often fail with non Verbatim discs. They say only 3 trusted brands are still produced, and Verbatim and MediaRange are produced at the same manufacturing line.
But what happened today shows why we must be very careful with discs that turn out to be very brittle! I now lost a Driverpack, plus the drivers of my Asus desktop, some of my Dreambox programs, and some Dean Martin songs. I easily could break the remaining pieces into more smaller pieces without using any real force with my fingers! I knew it had happened to others but never expected it to happen to my discs, or my drives!
Next photos show the labels on my 2016 Liteon BH16NS55 M-Disc compatible drive!

After I carefully removed all the remaining pieces from my drive and cleaned and lubricated the transport parts with very small drops of Gleit Leicht (silicon based spray), I gave the drive a test run with another previously failed writing without verify errors Primeon 50GB BD-DL disc.
I was very lucky that the drive still was working fine and so both lasers (one blu, and one red) were not damaged by the internal blast. Only one plastic case holder was broken but was easily fixed with some drops of superglue. I believe this disc exploding test once was done by the guys of myth busters years ago. They found out that this really could happen in drives at today's reading speeds at 52x and higher. But probably also depends on the quality of the material the disc is made of. Following photos show the internals of my Bluray burner before cleaning.


Next photo shows the force that had broken one of the plastic case holders.
Notice the small white particles still inside on the tray from the disc blast!


So if you ever find discs as brittle as my above disc , do not use them in your higher speed player/burners! Or maybe better not at all! It will keep you away from a lot of sorrow and needless repairs. Don't say I didn't warn you! Also because these Bluray Burners are still too expensive to simply ignore!

Albert van Bemmelen, Weert, The Netherlands.
Please give a support by clicking on the social buttons below. Your feedback on the post is welcome. Please leave it in the comments.
P.S- If you enjoyed reading this, click here to subscribe to my blog (free subscription). That way, you'll never miss a post. You can also forward this website link to your friends and colleagues-thanks!
Note: You can read his previous repair article in the below link:
https://jestineyong.com/homemade-testers-were-used-in-testing-power-supply-components/
Likes
(

55

)
Dislikes
(

4

)