Water Level Controller BTC L500 Repaired/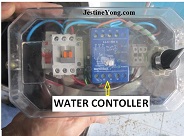 One of my friends that have a garden brought me this water level controller and asked me why this water controller was not functioning?
But what is water level controller?
In many homes and public places and gardens , ground water is used, which must be pumped up to overhead tanks to give enough pressure to water and by using water pumps which are controlled by electric motors the water goes to the tank. Controlling the pumps is a necessity to avoid wastage of water.
To control of the water level in the tank a water level controller is required.

 Aerial water tank
How this controller works?
This controller has three copper wires that act as sensor and installed inside the tank

With the help of a CMOS IC that is installed on the pcb ( IC CD4011 )-see next photo, low water sensor or a high water sensor both Via 4 resistors and caps are bringing data for IC CD4011 by processing the data and give order to relay (That installed also on pcb ) to run the pump or stop the pump 1- water level is low, the input pin 1 of the IC is at logic high and according to NOR gate truth table, the output at pin 3 will be at logic low.
Since pin 3 is shorted to pins 5 and 6, hence the input to other NOR gate will be logic low signals. This gives a logic high signal to the corresponding output pin 4. As current flows through the resistor to the base of transistor, it starts conducting and acts as a closed switch. The relay connected to the collector of the transistor gets energized and the NO contacts get connected to the common contact and the water pump gets power supply from the mains and starts working.
Now when water level rises in the tank rises such that probes low and high are connected through water, current flows through them (As water is a conductor) and the pins 1 and 2 are connected through the negative side of supply.
The output pin 3 is thus, at logic high level, causing the input pins of the other NOR gate to be at logic high level and thus the corresponding output pin 4 is at logic low level. The transistor gets cut off due to lack of bias current and the relay gets correspondingly de-energized and the power supply to the water tank gets cut off.
CMOS IC CD4011: It is a versatile 14 pin IC which contains 4 NOR gates. Each NOR gate has two inputs and one output. Thus the IC has 8 input pins and 4 output pins, one Vcc pin (connected to positive voltage supply) and one Vss (connected to negative supply). Its basic features include – Maximum supply voltage: 15 V, Minimum supply voltage: 3 V, Maximum speed of operation: 4 MHz. It can be used in tone generators, metal detectors etc.

Transistor BC945: It is a NPN bipolar junction transistor and it is used mainly for amplification and switching purpose. Its features include maximum current gain of 800. It is used in CE configuration when used as an amplifier.


After opening the case of water controller I found the following components on the pcb:
One transformer that act as step down transformer 220 v AC to 9 volt ac
2 x 4007 diodes  to rectify the AC to DC
Electrolytic cap as filter of rippled DC product of power supply
A relay 220/24v dc as key for turning off and on the pump
Transistor NPN BC 945 that amplifies signals for relay
Cmos IC 4011 that translate the signals that coming from sensors and with cooperation of Transistor and relay give command to the motor  pump for on and off
Zener diode 8.5 volt as regulator supply voltage for IC pin 14
Green LED as indicator that the pump is working
Red LED indicator of 220 AC is present in circuit
2 x 220 k ohm resistor and 2 x 480 k ohm resistors as impedance matching parts of sensors to digital IC

The only part that I found bad on this machine was the linear transformer. The primary winding of the transformer was opened circuit and by replacing with a new transformer, the controller return to service.

Note: Since I could not find the exact size of the transformer in the market so I have used the bigger one but with the same specification. Since the new transformer was big, I installed it on top of the box instead on the PCB. Rewinding of the old transformer was costly so getting a new transformer fixed the problem.

Final installation of transformer on top of the water controller
I suggest to my friend to use one AC voltage regulator on the supply voltages of water level controller to prevent transformer from unwanted spike of voltages so that this can prolong the life of the transformer.

This article was prepared for you by Mr Beh from Iran.
Please give a support by clicking on the social buttons below. Your feedback on the post is welcome. Please leave it in the comments.
P.S-  If you enjoyed reading this, click here to subscribe to my blog (free subscription). That way, you'll never miss a post. You can also forward this website link to your friends and colleagues-thanks!
Note: You may check out his previous repair articles in the below link:
https://www.jestineyong.com/mystery-of-chinese-torch-recharging-system/
Likes
(

77

)
Dislikes
(

1

)