Water Pump For A Swimming Pool Repaired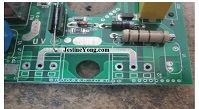 My brother brought me this water pump to fix and maintain. There was a power shut down at his villa and the electrician traced that power issue to this pump.

It was urgently needed in the Villa because there are people renting the
place and without this part the swimming pool is out of service.

The fault was very clear the moment I took the cover off. As it is seen in the photo, the power socket melted and caused the short in that villa.

The first task to do was taking this off board and then look for replacement part.

The part was taken off the board and started looking for such socket.
I have one that very similar to it but not identical but that does not matter as long it fits and do its job.

As the part was taken off board, I went ahead and cleaned that board and as seen in the photo, it looks very nice. I checked the board for bad soldering joints but everything seems to be in good working order.

I took the used part from another faulty water pump that was sitting in my shop and as seen in the photo is in a very good condition.
My brother took it back to his villa and applied power to it and was informed later on it was up and running doing what is supposed to do.
Mission Accomplished.

This article was prepared for you by Waleed Rishmawi, one of our 'Master Authors' and currently working in the Bethlehem area of Palestine repairing electrical and electronic equipment.
P.S- Do you know of any your friends who would benefit from this content that you are reading now? If so, forward this website to your friends or you can invite your friends to subscribe to my newsletter for free in this Link.
Note: You can check his previous repair article in Hair Straightener Repair
Likes
(

62

)
Dislikes
(

0

)