Welding machine power on but does not weld repaired. Model: Zika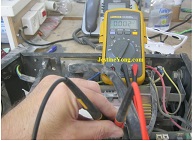 A guy brought this welding machine for repair. It was a Zika machine which is a very good quality machine and kind of expensive to buy but worth it.

The complaint was it powers on but it does not weld at all. This machine once it was turned on, the yellow warning protection light comes on and the machine goes into safe mode and shuts down.
This kind of warning means one thing, one or two on the high tension on the Mosfet area is either shorted or gone open so let us check it out.

The whole line of Mosfets showed a short to ground symptom but that is a normal reading. Usually one Mosfets could give out such fake reading. All these Mosfets have to be taken out one by one for checking.

One was found shorted to all its three pins. Once that Mosfet was taken off board the short was gone.
If the machine was powered on at this time, it would come on but I do not recommend to do any welding until that shorted part was replaced with a working one. The Part number is 23N50E.

Click on the above photo to view the FMH23N50E Datasheet
The part was replaced and the machine was maintained and cleaned. I checked for any bad cold soldering joints but I found none. It was time to turn on the machine and see the outcome.

It is a little bit out of focus but the reading was 125 DC volts coming out of the negative and positive terminals of the machine. That is a very good sign.
The guy came and tested it out himself and he was happy with the outcome.
Mission Accomplished.

This article was prepared for you by Waleed Rishmawi, one of our 'Master Authors' and currently working in the Bethlehem area of Palestine repairing electrical and electronic equipment.
P.S- Do you know of any your friends who would benefit from this content that you are reading now? If so, forward this website to your friends or you can invite your friends to subscribe to my newsletter for free in this Link.
Note: You can check his previous repair articles in the link below:
https://jestineyong.com/two-faults-on-a-hovering-board-repaired/
Likes
(

59

)
Dislikes
(

0

)