Welding Machine Powers On But Does Not Weld Repaired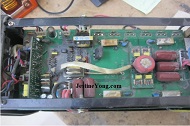 This welding machine was brought to my shop for repair and as I understood from the customer that it powers on but does not weld.

Look at this dust covering this welding machine which shows that it has not been maintained
for a long time and I expect to see many faults in it.

Here is another fault that I took care of right away and now I am concentrating on why this machine is not welding? Let us find out.

After cleaning, I proceeded to checking parts on this machine for sometime obvious faults…

This is a very important test to do by checking the ohm reading on the output of this welding machine and I should be getting a high reading of ohms.
No reading is an indication of a loose connection either on board or one of the components is burnt.

It is making a connection but not the best connection so I checked further for more issues.

The connection from the lower metal part to the top one is missing and I think I just found the fault here.

It seems like the whole metal piece need to be changed and the lower part where it attached to the board is loose too and need some attention.

That is the lower side and as seen, it is really bad. This area has to be cleaned, sanded to make a better joint, add a new metal piece and hope for the best.

I cut a metal piece, made a hole to fit the screw in and I installed it on board.

Tightened the screws, added a fresh solder after cleaning the joints and the job is done.
Let us see if we get any voltages out on the negative and the positive terminals of the machine.

Mission Accomplished.

This article was prepared for you by Waleed Rishmawi, one of our 'Master Authors' and currently working in the Bethlehem area of Palestine repairing electrical and electronic equipment.
P.S- Do you know of any your friends who would benefit from this content that you are reading now? If so, forward this website to your friends or you can invite your friends to subscribe to my newsletter for free in this Link.
Note: You can check his previous article on A Shorted IGBT On A Cheap Welding Machine Repaired. Model: Sniper
Likes
(

62

)
Dislikes
(

1

)