What No One Tells You About Data Recovery from Broken EEprom IC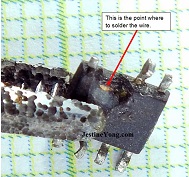 Hi folks!
I got a couple of days ago a phone call from a company about a sophisticated job, as I told, it is really sophisticated. They ask me to make a data recovery from a broken EEprom IC. I decide to take the job and let's see what about it is.
So, the company has an EEprom which was gone really bad but this is the only one on the earth with the specific data in it which they must have. If the data would be unrecoverable then, they lost a very expensive machine, maybe somebody lost his job. I was thinking, hu-huuu what type of machine could that be? Maybe a space rocket?
Ok, let's start:

The EEprom type is an ST93CS56 which means it is a write protected EEprom, not a usually one. The equivalent all days EEprom is the ST93C56 which have no memory protection function. This special EEprom was in most of case fabricated for special customer's like the military, special medical labs industry, car industry etc…
The worst problem was with this EEprom does you can't write data into with a usually EEprom programmer, but you can some time read out the data. Some technicians who repaired that specific machine broke one leg from the EEprom IC. Now it is no more connectable to the original PCB or to any other device for backup.
Until I checked the other legs I saw there was another leg broken. So, now I deal with an EEprom who have two legs broken. The first thing what I have to do is somehow connect to the broken pin place a wire. That I achieved when I took a small round rasp and gently removed slice by slice the package of the IC. After 40min of gently filing I got to the leftover pin which was broken deep in the body of the IC. Then I soldered a wire to the cooper plate, so I got a connection to the internal world of the EEprom.  Here is how that looks like:

And here is how the finished soldering looks like:


And another picture where I soldered all the legs to my home made smd to DIL adapter.

After this I fired up my famous EEprom reader/writer the SEEPROG and try to read out the content. It worked, the data was stored in the buffer of the EEprom programmer and I could save them to my hard drive. I sent the data back to the company who offered me to do this job, and I have asked them to send me a feedback to see if the data are good or corrupt.
Few days later I got a nice call from the company saying the data recovering was successful and the machine was working again. So, this is a technique what I use whenever an IC got some pin damaged and the data should be read out for some reason. I have tried this on lot's of EEproms and CPU-s too.
In most of the case I could read the data and then reload it to another same IC and fix the problem on that tool, machine, equipment whatever.  I hope you enjoy this tutorial and will save lot of repair time.

This article was prepared for you by Christian Robert Adzic from Novi Knezevac-Serbia.
Please give a support by clicking  on the social buttons below. Your feedback on the post is welcome. Please leave it in the comments.
P.S-  If you enjoyed reading this, click here to subscribe to my blog (free subscription). That way, you'll never miss a post. You can also forward this website link to your friends and colleagues-thanks!
Note: You can check his previous post in the below link:
https://www.jestineyong.com/samsung-ht-tz315-dvd-player-loading-forever/
https://www.jestineyong.com/vw-polo-1-4d-year-2003-9n1-car-computer-repair/
Likes
(

206

)
Dislikes
(

0

)