What Will Be The Symptom When VGH Is Missing In LED TV? – SAMSUNG UA24H4003AR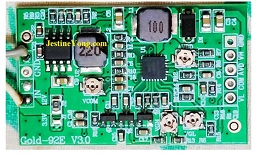 This TV was brought to me with the above complaint which was reported to have happened while watching the TV.
I opened the set and subjected it to thorough cleaning.

As there was display, everything in the Power Supply Board and Mother Board might be working very well. So, I checked the five essential voltages in the scaler board and got the readings as: VGL – (-) 7.92V, VDD – 3.25V, VCC – 12.70V, VGH – 0V, VAA – 12.70V. Evidently, the output of VGH was missing. The next step was checking for any shorting of capacitors on the scalar board or the inside the panel itself.
For that I cut the VGH out track from the IC and checked for any short and did not find any. So, the Voltage Booster IC CM501 itself was defective. As a genuine replacement was not available, I cut the output tracks of this IC and provided a small board like how I have done in a few cases before, by connecting wires to the spot on the scalar board and providing 3.3V from the mother board:


When I applied power, the TV was found working normally. After allowing it to run for several hours, I closed the cover and fit it back for delivery. I also run the TV for several more hours before asking the customer to come and pick-up.
Mission accomplished easily and satisfaction got collected as usual.


This article was prepared for you by Parasuraman Subramanian from India. He is 72 years old and has more than 30 years' experience in handling antique equipment like Valve Radio, Amps, Reel Tape Recorders and currently studying latest tech-classes conducted by Kerala State Electronics Technicians' Association. He has done graduation in BBA degree, private diploma in Radio Engineering and retired as MD of a USA company. Presently working as Consultant to Hospital and other institutions.
Please give a support by clicking on the social buttons below. Your feedback on the post is welcome. Please leave it in the comments.
P.S-If you enjoyed reading this, click here to subscribe to my blog (free subscription). That way, you'll never miss a post. You can also forward this website link to your friends and colleagues-thanks!
You may check on his previous article on Replaced LED Board In 100W Garden Light Model STURLITE IP66
Likes
(

51

)
Dislikes
(

0

)