Where To Check For A Very Bright Display Fault In CRT Monitor/TV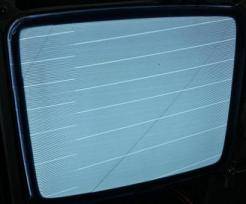 This kind of problem of bright display with flyback lines across screen one has to concentrate on the G2 (screen voltage) and G1 voltage. The G2 voltage has to be within range (typically 250 to 300vdc) and if it set to too high the above symptom will appear.
As for G1 voltage, it should be negative voltage and if you get zero voltage then you can expect the same problem.
In certain designs, a missing dc supply voltage (usually 12 volt) to the video pre amplifier IC also could cause such problem. In rare cases a shorted cathode and the G1 electrode in the picture tube also would cause similar fault. I also have seen a faulty vertical output IC that had caused the above problem.
So there you are, few possibilities of circuits to suspect. Check the circuit one by one and I'm sure you will find where the faulty section/component is.
Likes
(

38

)
Dislikes
(

3

)