White Display In Dell Inspiron Laptop Repaired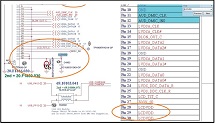 Received back same laptop which was repaired earlier for intermittent power problem. Now problem is when laptop turned on it shows white screen & no graphics problem.

Total white screen without graphics problem suspected areas is GPU / LVDS /Display Screen section. Earlier when I repaired the laptop for intermittent power problem this symptom is occurred, but I thought because of disassembly of laptop motherboard LVDS cable may have fallen loose so I have removed & re plugged the LVDS cable on both the side on screen as well on motherboard.
When laptop was in burn in test it didn't show me this symptom again. But this time customer stated me this was happened when he was doing some work on laptop and suddenly screen became white. So in probable suspected area I started visual inspection on the motherboard. No physical damage or burnt marks are found.
I have connected external monitor and I got proper display on the monitor screen that means GPU section is ok it generating graphics. Now I have only two suspects LVDS cable or display screen. I have checked LVDS cable one to one continuity seems ok. So now the only suspect is display screen itself.
I have one bad salvaged screen with me with few vertical lines on it but working ok. So for testing I connected that screen but problem is still there this screen also display white screen. So where is problem??????…………………
Now it is time for voltage testing…….As I told GPU section is OK because it gives proper display on external monitor hence we have to check voltages on LVDS Section on motherboard.

I have downloaded the schematic diagram this Laptop Model is Dell Inspiron 5110. By opening schematic I have searched for LVDS Section & opened the LVDS socket connector pin out details.

In diagram pin no. 28, 29, 30 shows 3.3v supply pin for the screen so I have checked. Voltages on those pins but I am not getting any voltages. Screen supply voltage is missing. More I searched for LCDVDD Location and I found section which enables LCDVDD voltages.

IC U4901 is the IC which generates 3.3V O/P for LCDVDD.

As per IC Diagram IC U4901 I checked output for 3.3V on Pin no.3 & it is not showing any voltage on O/p. Now checked No. 4 & 5 supply I/P pin for 3.3V DC that is Ok.
Now checked pin no.1 for enable voltage it also show 3.3V this result indicates IC Itself is bad because I/p Voltage and EN voltage is Ok but IC is not generating 3.3V on O/p Pin no.3 of the IC.
I am not having this IC in my collection and also not having any donor board. So discussed the situation with that customer that we have to wait till the Part arranged may take month or two. But customer requested me to get it done at earliest because his son is having On-line lecture (Due to this pandemic Covid Situation all the school /colleges and many private companies are turned to online operation since last one year).
So I gave him assurance that I will try my best efforts to get it done at earliest. I have contacted some of my techie friends if they have this IC but bad luck none of them. So I kept this repair work beside till arrangement of IC…….after 2-3 Days on tea time in evening I just going through the Schematic of this Model and traced the circuit to understand possibility to Bypass / Jumper solution for this IC………. & suddenly got strike in my mind why not jump 3.3V from pin no. 4 & 5 to pin no. 3 O/P & see the result.
Because this IC does not communicate to any other stage on motherboard it is just producing voltage for the screen.

So I have taken out the laptop for testing this trick. After turned ON the laptop I have shorted the Pin no. 3 & 4 using tweezer and I got display on the screen.
So again discussed the situation with customer that; we do not know how long this trick works but may be work till the time we can arrange the part. And customer is agreed up on. So I made the Jumper on the IC.

& the result is……..

Laptop White Screen No Graphics Problem Solved.

This article was prepared for you by Yogesh Panchal who works as a Computer Hardware Engineer in Mumbai India.
P.S- Do you know of any your friends who would benefit from this content that you are reading now? If so, forward this website to your friends or you can invite your friends to subscribe to my newsletter for free in this Link.
Note: You can check his previous repair articles in the link below:
https://jestineyong.com/clicking-noise-in-computer-atx-smps/
Likes
(

63

)
Dislikes
(

0

)