Why Car 12 Volt Cigarette Socket Doesn't Work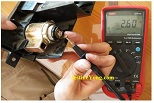 Was planning to use the cigarette socket to power up a brand new car dashboard video recording (DVR). Unfortunately, the DVR does not turn and initial suspect was the DVR itself is not working. Tested the DVR in another car and works like charm.
Decided to use a multimeter to test on the voltage output and the output was 12 volt which is correct. Later on I removed the whole center console unit to enable the cigarette socket to be slide out. Reprobe on the value and its 12 volt! And wiring connections is good to the socket.


But still does not power up any other devices also. I test it with a 12 volt light bulb and it does not light up at all.

Then, I disconnect wiring and go for offline troubleshooting on the socket itself after knowing the supply is 12 volt but does not light up through the socket. Testing the resistance between the socket to the wiring tip is not completely shorted and resistance value around 2-10 ohms were present. This is probably contact resistance which cause drop in voltage during load or device is plugged in. 

I dismantle the socket from the plastic housing 

After dismantling I cleaned all metal contacts with contact cleaner. Socket contact surface to the rear seems good at 0.52 ohms. The +12 volt wire are plug into metal plate (2nd from left) and are tighten with nuts to the socket.

After that putting the whole socket back to the plastic housing, it seems the resistance reading are back to normal at 0.55 ohms.

And putting it back to the car's wiring, the light bulb light up and socket is good here. Therefore, don't' be fooled by having 12 volt but with resistance (poor contact), a simple 12 volt will have a dropout and will fail to power up gadgets. In conclusion, although it looks primitive and amateur way of checking using a 12 volt bulb but still it is a good way to verify the electric circuitry is going well all the way. I came across a lot of car mechanics will use light bulb instead of voltmeter or multimeter upon verifying electric wiring in the car. Probably light bulb light up and brightness will provide a good indication of whether the wiring has a bad contact.


YH Wong is from Malaysia with a degree in Computer Engineering. Currently, work as a test engineer in semiconductor industry. Avid in troubleshooting & repairing electronic gadgets related.
Please give a support by clicking on the social buttons below. Your feedback on the post is welcome. Please leave it in the comments.
P.S- If you enjoyed reading this, click here to subscribe to my blog (free subscription). That way, you'll never miss a post. You can also forward this website link to your friends and colleagues-thanks!
Likes
(

121

)
Dislikes
(

0

)