Wi-fi Issues In Iphone 6 Repaired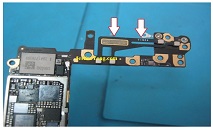 A lady in my church brought me an Iphone 6 that has Wi-Fi problems. She has no details about the phone because the phone belongs to her daughter and she asked me to take a look and try to fix it.

When I took it to my shop and took the two screws off.
I lifted the screen up to see what lies beneath it. Guess what I saw missing?

Do you see what missing inside that red square? The Wi-Fi antenna was missing. In order to receive a Wi-Fi signal you need an antenna for that.
In order to get to the logic board and install the new antenna, I had to take a lot of screws off. It is very important to mark these screws as you take them off board because they are not the same size. If by any chance the screws got mixed and installed a long screw in a place of the short screw, you will end up damaging the logic board which makes the problem worse.

It is a good procedure to disconnect the battery before doing any repair to any phone.
Once the battery was disconnected and screws were off, I was able to get the logic board off and install the new antenna.

The board is off and you can see where the Wi-Fi antenna supposed to be. Since I repair all kinds of smart phones, I have this antenna available in my shop.

It has four sockets on four edges of the antenna and it has to be plugged on to the board.

Once the antenna was plugged in and the Iphone was put back together.
I was able to connect to the available Wi-Fi sources around me.

When the antenna was missing, I was not able to connect to any Wi-Fi sources but now I can thanks to the new antenna installed.
Mission Accomplished.

This article was prepared for you by Waleed Rishmawi, one of our 'Master Authors' and currently working in the Bethlehem area of Palestine repairing electrical and electronic equipment.
Please give a support by clicking on the social buttons below. Your feedback on the post is welcome. Please leave it in the comments. If you have electronic repair articles to share with us, please contact us HERE.
P.S-  If you enjoyed reading this, click here to subscribe to my blog (free subscription). That way, you'll never miss a post. You can also forward this website link to your friends and colleagues-thanks!
Note: You may check out previous post in the below link:
https://jestineyong.com/map3202-led-driver-ic-failure-in-42-led-tv/
Likes
(

64

)
Dislikes
(

0

)