Wiring Broom- A Useful Short Circuit Tool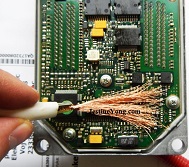 Today I run into a strange situation until I repaired an ECU from a car. Actually the car has a problem with controlling of one injector. The output voltage on the injector which is triggered by the ECU is half of the desired voltage of 12V. Something is in short or bad component are there inside the ECU who acts as a voltage divider.
I desired to open the ECU and start to investigate. Ok, I figured out does the pin50 from the connector of the ECU is going to the injector, but where is that pin 50 connected in the ECU?
When I opened the ECU, in leak of the ECU schematic I started to trace the connection from pin50 to all other components legs with my multimeter, maybe I can figure out from where the signal is coming to the pin50. But, in short time I figured out does this method of searching will take too much time, and time is for me money. So I decide to make a tool with which I can faster find the trace from the pin50 to the other components.
Actually, with this wiring broom I can find the region where the trace is going, that is also good enough for me, if I know just the region where my DMM was beeped than I have to check several components and I will find the trace.
Here are the pictures:



I hope, you got the point of this tool.

This article was prepared for you by Christian Robert Adzic from Novi Knezevac-Serbia.
Please give a support by clicking  on the social buttons below. Your feedback on the post is welcome. Please leave it in the comments.
P.S-  If you enjoyed reading this, click here to subscribe to my blog (free subscription). That way, you'll never miss a post. You can also forward this website link to your friends and colleagues-thanks!
Note: You can check his previous post in the below link:
https://jestineyong.com/exhaust-gas-recirculation-egr-system-hack-on-1-6tdi-engines/
Likes
(

123

)
Dislikes
(

4

)