WL= 15 Volt Zener Diode (Multi DC Output Adapter Faulty)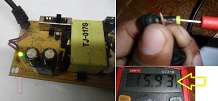 The complaint of this Universal AC TO DC output power adapter was no power. The usual power adapter has a fixed output DC voltage but this type of design have several output DC voltages – 12/15/16/18/19V/20/24 volt. You can see the photo below:

Although the complaint of the power adapter was no power, I have to double check it to make sure there was really no power. Sometimes customer can give a wrong description.
After checking it, indeed it was no power-see the photo below:

The first I did was to slowly cut open the cover with a cutter. It took me sometimes to cut opened it.

Once I flipped the power circuit board I saw burnt mark at the power FET leads and the main fuse was blown too.


Since the power FET (2N60) was blown this mean I had to check on the corresponding components. All of the SMD components were tested good except one (board location ZD3).
It had a shorted reading and the component marking was WL.

From internet search I found that the WL marking means 15 volt- see the chart below:

Next, I simply soldered a new power FET and a 15 volt zener diode for testing purpose but of course had to go through the series light bulb test.
The series light bulb test is  to prevent the components that I have replaced from blowing again, if there is still short circuit in the power adapter. If the power adapter is working then I will remove  the bulb and put back the original fuse.

The good news was, it worked perfectly fine and from the photo below you could see that the output DC voltage was 15.93 volt which is very near to 16 volt-job done.


Conclusion- If  you want to enhance  your power supplies or even power adapter repair with the help of many tips and tricks, I can recommend Jestine Yong's ebook in SMPS repair HERE.

This article was prepared for you by Suranga Bandara who owns an Electronics repair shop in Anuradapura, Sri Lanka.

Click HERE to check out Humphreys ebook in LCD/LED TV Repair
Please give a support by clicking on the social buttons below. Your feedback on the post is welcome. Please leave it in the comments. If you have electronic repair articles to share with us, please contact us HERE.
P.S-  If you enjoyed reading the above article, click here to subscribe to my blog (free subscription). That way, you'll never miss a post. You can also forward this website link to your friends and colleagues-thanks!
Note: You may check out his previous post in the below links:
https://jestineyong.com/power-blinks-in-lg-led-tv-repaired/
Likes
(

90

)
Dislikes
(

0

)