You Will Be Stunned Of  What's Found Inside The TV (No Power Fault)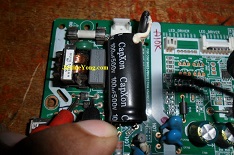 This 32″ Videocon LED TV came in with the complaint of no power. I'd tested it and indeed it was no power. The next was to open up the cover and measure the main fuse. Below is the photo of the power board integrated with the mainboard:

The main fuse was checked and found it to be opened circuit. The reading of the meter showed 000 Ohm which mean the fuse was bad.

Before I proceeded to check on other components, I took out the circuit board and flipped it backward. I got a shocked to see a burnt dead lizard. From the side it looked like a tiny Godzilla! The lizard went inside the TV probably due to the warm environment.
I believe is the heat from the components that had attracted the lizard but it went into a wrong place. It went straight to the AC source killing it instantly. This had caused the main fuse to blow.

I removed the dead lizard with a plier and took out a bottle of PCB cleaner to clean the affected area.

Next I checked on all the components in the corresponding which included the Bridge Rectifier diodes, power FET, Varistor and etc. All the components were tested good. If you want to learn how to test all these components I can recommend Jestine Yong's ebook HERE.

Since there were no bad components found, I had to connect a 40 watt light bulb in series with the fuse holder to check if there  is any other components that was shorted. The bulb lighted for a while and went dimmed and I could see the red LED standby turned on.
This indicated that the power supply no longer have shorted components and I can place a new fuse and then turn the set On – see the two photos below:


Once the fuse was replaced and power was applied, I could see the picture in the screen.

Conclusion- Once you know the electrical safety and the right way to test components, you can actually start the board repair work. If you wish to be good in power supply troubleshooting and repair you can check out Jestine's SMPS repair ebook HERE.

This article was prepared for you by Suranga Bandara who owns an Electronics repair shop in Anuradapura, Sri Lanka.
Please give a support by clicking on the social buttons below. Your feedback on the post is welcome. Please leave it in the comments. If you have electronic repair articles to share with us, please contact us HERE.
P.S-  If you enjoyed reading the above article, click here to subscribe to my blog (free subscription). That way, you'll never miss a post. You can also forward this website link to your friends and colleagues-thanks!
Note: You may check out his previous post in the below links:
https://jestineyong.com/blur-picture-in-tv-repaired/
Likes
(

107

)
Dislikes
(

0

)