A Serious Mistake In 12 Volts Power Supply Repaired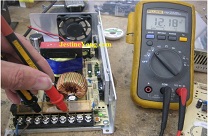 A friend of mine and a fashion store owner brought me three power supplies for repair. He said the electrician tried to fix something in his store but instead he damaged these three LED power supplies there.

As seen in the photo, the three power supplies were dead and needed repair but I only picked one power supply to write the article about.

The first thing that I saw when I took the metal shield off was this blown fuse and with the fuse blown,
I am sure there are other components like the bridge rectifier and other parts are damaged as well.

The first thing that I came across was the main capacitor and as seen in the photo, it has a short across the negative and the positive terminals of that capacitor.

The bridge rectifier was also damaged along with two Mosfets (HGTG20N60C3) on the secondary side of the power supply.

Click here or the above photo to access HGTG20N60C3 datasheet

Once these parts were replaced and installed in this power supply,
I connected it through a current limiter device and as seen in the photo, the green LED light came and that is a very good sign.

I did a quick test to make sure the 12 DC volts are there and the photo confirms that loud and clean.
I put the metal shield back on and called the customer but the customer suggested that I go to his store and connect these power supplies to make sure all are working within their specifications.
A job well done is what I heard from the customer and that put a smile on my face that there are still people out there appreciate what we do in the repair field.
Mission Accomplished.

This article was prepared for you by Waleed Rishmawi, one of our 'Master Authors' and currently working in the Bethlehem area of Palestine repairing electrical and electronic equipment.
P.S- Do you know of any your friends who would benefit from this content that you are reading now? If so, forward this website to your friends or you can invite your friends to subscribe to my newsletter for free in this Link.
Note: You can check his previous article on Could Hear Relay Click Sound But No Continuity…..
Likes
(

83

)
Dislikes
(

0

)