Asus Barebone Desktop PC Repaired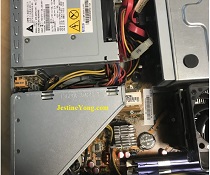 My ICT shop owner friend got a phone call from a nearby shop to fix their dead computer that was used for their shop's cash register. It was an old Windows XP Asus desktop Barebone PC that was completely dead now. And the special cash flow software that was installed on it was desperately needed on a daily base.


The owner already had asked other repair shops if they were able to fix it. But because they were unwilling or couldn't fix the old desktop computer with its special barebone power supply he phoned my friend if he could help.
My friend therefore also hesitated thinking about the often futile spent time on old badly kept systems but I convinced him to give it a go.

After the desktop PC was brought in we first tried if it would start but it gave no sign of life as was explained by its owner. We opened the case by removing two screws on the back and removed the U shaped outside plate. There was a lot of black dust inside on Fan and in the special DPS-200PB-138 C rev 04(F) Barebone power supply. So we first carefully cleaned the inside with our vacuum cleaner. Then we removed the Barebone power supply and tried the Asus PC with another working power supply my friend keeps for these purposes. And the computer came back to life after the standby knob on the front was pressed and a blue led was activated.
So my friend asked me to try if I could repair the compact Asus Barebone power supply.

It was a very compact made design that was a bit difficult to open after removing 5 silvery smaller outside sunken screws. And in its inside there were several boards with one main board. And I noticed one bulged electrolyte capacitor that most likely was the cause of the dead supply. It was a 1000uF 10V e-cap. With its – polarity side pointing to the middle of the board and its plus side close to the double rectifier diode with its attached cooler plate. I had to remove that dual diode with the cooler plate first before I could remove the bad now bulged e-cap.

Next photo shows another good view on this main power board. With the bulged e-cap right under the bigger cooler plate with the dual rectifier diode on its right.

After we replaced the e-cap we closed the Barebone supply and gave it another test-run after we also had replaced the already completely drained 3V lithium cell on the Asus mainboard (0V!). And the Asus Barebone PC showed a healthy working Windows XP system again!

Although Microsoft keeps making all sorts of new versions of their Windows, many times these older systems are still heavily used today. Often because those systems have special software packages installed that still do what they were bought for many years ago like in this example. But simply no longer would work on newer versions or PC's why they are greatly valued even after a Windows evolution of almost 20 years or more! And it is like the expression says never change a bet on a winning horse! Just keep these old systems running while they can!

Albert van Bemmelen, Weert, The Netherlands.
Please give a support by clicking on the social buttons below. Your feedback on the post is welcome. Please leave it in the comments.
P.S- If you enjoyed reading this, click here to subscribe to my blog (free subscription). That way, you'll never miss a post. You can also forward this website link to your friends and colleagues-thanks!
Note: You can read his previous repair article in the below link:
https://jestineyong.com/rescuing-a-wd-500gb-hdd/
Likes
(

79

)
Dislikes
(

0

)