Audio Alchemy DAC in The Box Repaired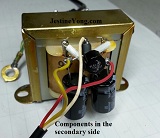 The complaint of this device was no power. It comes with an AC power adapter and the output voltages are positive and negative 14 volt dc.

When I checked on the output I found that it had zero volts. This means the adapter is the cause of the problem.
Once the adapter cover was removed I could see the linear transformer but the top section winding was burn-see the photo below.

The small square thermal fuse and the MKT capacitor were open circuit. The secondary side small bridge rectifier and two filter capacitors were tested good.

Since I'm getting a new transformer (centre tap 9, 0, 9 v transformer)- see the photo below.

I have also decided to replace all the five components. I even bought a new power supply casing. As for the input and output cables I'm using back the original one.




After fixing everything and checked on the output I got only -13.1v and + 13.1 volt which is quite near to 14 volt. I tested it on the device and it was powering on and working perfectly fine.

Below is the hand drawn schematic diagram of the Audio Alchemy Power Adapter:

This article is contributed by an anonymous repairer.
Please give a support by clicking  on the social buttons below. By the way if you have any good repair article that you want me to publish in this blog please do contact me HERE.
Likes
(

177

)
Dislikes
(

4

)