Bluetooth Headphone Not Working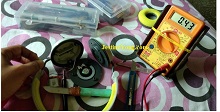 Received one Bluetooth Headphone for repair.
Problem reported by the customer: Headphone is not turning ON.
On initial inspection I found headphone is not turning ON but it is working OK on Aux Cable. Here headphone is not working because it does not power ON. Bluetooth is required Power to turn "ON" & through Aux cable it runs directly connected to the device it does not required Power. So for further inspection I opened the one side of the head unit which is having charging port.
Here reported no power ON issue Leads suspected area to battery section. I checked this side of the section it doesn't have battery this side.
So I have to open another head device to reach battery section.

I found battery in this unit

Took out the battery for testing

Checked battery voltage it is showing totally drained. reason is either Battery is not getting charging voltage or battery itself is bad. For confirm bad battery, I have to check battery out of the circuit.

After removing battery, I removed the sleeve & I found main red +ve wire of the battery is open from the charging circuit wire Joint.

Checked battery charging circuit output voltage, it is showing 4.17v DC seems ok.
Suspecting battery is not charging because of open circuit; so to confirm the same I re soldered the battery on charging wires & kept the unit for charging for 3 Hrs. Then I checked voltages on the battery & now battery is showing 3.9v


Because of open circuit of the charging wire; battery is not charging hence headphone is not powering ON.
Tested headphone on Bluetooth now it is working.

This article was prepared for you by Yogesh Panchal who works as a Computer Hardware Engineer in Mumbai India.
P.S- Do you know of any your friends who would benefit from this content that you are reading now? If so, forward this website to your friends or you can invite your friends to subscribe to my newsletter for free in this Link.
Note: You can check his previous repair articles on USB Pen Drive Data Recovery
Likes
(

52

)
Dislikes
(

0

)