Chauvet 4 Bar Flex Repair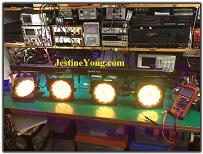 A friend of mine asked me to have a look at one of his Led show lights. It died during a show. It is a 4 light bar made by Chauvet, and can be controlled by DMX, or used as a standalone unit.

It wasn't powering up at all. Checked the fuse in the IEC socket.
To my surprise the glass was cracked. I'm not sure if this happened from heat, or if he tried to replace the fuse and damaged it in the process.

I decided not to replace the fuse right away, but jumper it with some croc clips, and power the unit via my variac with some series light bulbs. This way if anything was shorted inside, the bulbs would glow and I wouldn't waste a perfectly good fuse. The bulbs act as a current limiter.

Again the unit wasn't powering up. Time to open the unit up.


On the inside it has two pcb's. One is the SMPS, and the other is the main controller board with the microprocessor. The SMPS board was getting 230V in, but wasn't giving me a 12V output.

Out comes the board.

It had a pcb mount fuse that read open circuit. I decided to check some of the other components too.

Checked ESR of all capacitors with my trusty Blue ESR Meter. All gave low readings, BUT the main filter capacitor (100uF, 400V) read close to 0 ohms. Normally I would assume this to be low ESR reading and a "good" capacitor. To be sure, I decided to use my DMM to check resistance across the capacitor. Again 0 ohms. This indicates a short circuit either in the capacitor itself or the bridge rectifier or perhaps maybe even the switching Mosfet.
Removed the capacitor, and sure as hell, it was shorted.

Bridge rectifier and Mosfet tested fine.

Check out Jestine's book on testing electronic components for more info.
I replaced the capacitor with a new one rated at 105 degrees Celsius. I also replaced the fuse with a miniature through-hole type. This one is 3,15A Time lag fuse.

I then secured these with a dab of RTV silicone, and cleaned the bottom with IPA to remove all flux residues.

I then powered it all up again via the light bulbs, and measured 12V on output.

Put the SMPS back in its place and replaced the mains fuse in the IEC socket, and switched it on. All was working well.

So remember to check a very low ESR reading with a DMM as this might actually be a short circuit!
As they say "the show must go on".

This article was prepared for you by Riaan Diedericks. He runs his own electronics repair shop in Pretoria, South Africa. He specializes in Pro Audio repairs.
Please give a support by clicking  on the social buttons below. Your feedback on the post is welcome. Please leave it in the comments.
P.S-  If you enjoyed reading this, click here to subscribe to my blog (free subscription). That way, you'll never miss a post. You can also forward this website link to your friends and colleagues-thanks!
You can also check his previous repair article below:
Likes
(

109

)
Dislikes
(

0

)