CRT TV Color Patches Problem Solved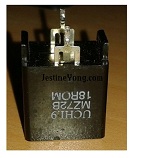 A friend of mine called me concerning his CRT TV problem. The complaint was about not getting proper color on the TV screen. I went to his place and checked the TV and I found it was color patches problem. The color was uneven as seen from the below picture:

As per my assumption, this symptom points to two possible faulty stages.
One is degaussing circuit and second is CRT Tube itself. I opened up the TV to check on the degaussing circuit first. It has only two parts i.e. the degaussing coil and a posistor (PTC).

I removed the degaussing coil from the connector and checked it with my Ohmmeter. I got 18 Ohm and this means it does not have open circuit. The next test was on the posistor (A Posistor is a resistor that connects in series with the degaussing coil around the picture tube). Since posistor can't be checked using multimeter I had to direct replace it and retest. I bought the part from electronics shop.

Once the posistor was replaced and the TV was turned On, the color patches were gone.

Note: Assuming after the replacement of the posistor with the same symptom, this means the CRT tube itself have problem. If you have the degausser/demagnetizer, it would be much easier to diagnose this kind of fault. If you have degaussed the CRT tube and the problem still persist this means the CRT TV tube have problem and need replacement.
This article was prepared for you by Yogesh Panchal who works as a Computer Hardware Engineer in Mumbai India.
Please give a support by clicking  on the social buttons below. Your feedback on the post is welcome. Please leave it in the comments.
P.S- Do you know of any your friends who would benefit from this content that you are reading now? If so, forward this website to your friends or you can invite your friends to subscribe to my newsletter for free in this Link.
Likes
(

322

)
Dislikes
(

15

)