External HDD Drive Intermittent working fixed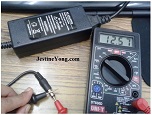 I got a call from one of my colleagues who are at the customer's place doing data backup process. He was having some problem with his External Backup drive stated the unit worked intermittently. This means sometimes it works and sometimes don't.

So I advised him to turn off the unit instantly (because it has Hard Disk inside and the data can easily get damaged with this type of problem) and get the unit to the workshop as per my suggestion he arrived at my workshop later that day.
I have connected this unit on my setup and powered on, I am not getting the power light On indication . Hence I have checked the power adapter marked with 12V DC output and seem ok when tested with multimeter. It showed 12.57 Volt as seen from the photo below:

Now it is time to disassemble the unit. So I have disassembled the unit and removed the HDD and this enclosure is SATA HDD connection type.

On visual inspection I did not find any physical damage or burning marks. So now it is time to check the solder side of the PCB. Once I flipped the PCB I found the whole PCB was covered with protective tape so I opened the tape carefully with the help of the tweezers.

Yes I found one of the pins of power socket was dry solder and it had caused the intermittent working fault. So I have resoldered the pins.

And once power was applied, the power indicator LED Light was immediately "ON".

After assembling the unit, I tested the external hard disk for 2 hours without any problem.

This article was prepared for you by Yogesh Panchal who works as a Computer Hardware Engineer in Mumbai India.
Please give a support by clicking on the social buttons below. Your feedback on the post is welcome. Please leave it in the comments.
P.S- Do you know of any your friends who would benefit from this content that you are reading now? If so, forward this website to your friends or you can invite your friends to subscribe to my newsletter for free in this Link.
Note: You can check his previous repair articles on LCD Monitor in the link below:
Likes
(

101

)
Dislikes
(

0

)